Get the new Agenda for free
PLEASE NOTE, KCB students and professors receive the Agenda at the start of the academic year, requesting the Agenda is in that case not necessary.
Curious about what the students and professors of KCB will bring next year?
Furthermore, you are welcome everywhere, because what would a concert, performance, lecture, ... be without an audience?
Next academic year's production calendar is in the making.
Fill in the application form and get the new
'Calendar 2023-2024' for free by post and/or mail.
All information in the Agenda is written in Dutch, French and English.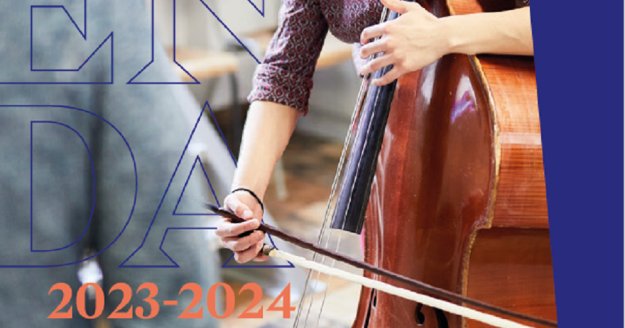 We proudly present the calendar of the academic year 2022-2023,
offering you a range of diverse and fascinating events. Both students and professors are very eager to welcome you to numerous concerts, lectures and masterclasses at the Koninklijk Conservatorium Brussel.
Our presence in Brussels' cultural field provides us with new stages beyond our own walls. The Early Music department performs nearby, in the Musical Instruments Museum (MIM), the Jazz department takes the stage in the RITCS Café and the Classical department performs in various Cultural Centres in and around the capital. The Education department is a regular guest at the BRONKS, and our Musical department puts on dazzling performances at the Bozar!
The KCB believes in the connection between tradition and innovation, and our concerts bear full witness to this idea. Be surprised and get to know our brand new house style!
We look forward to welcoming you,