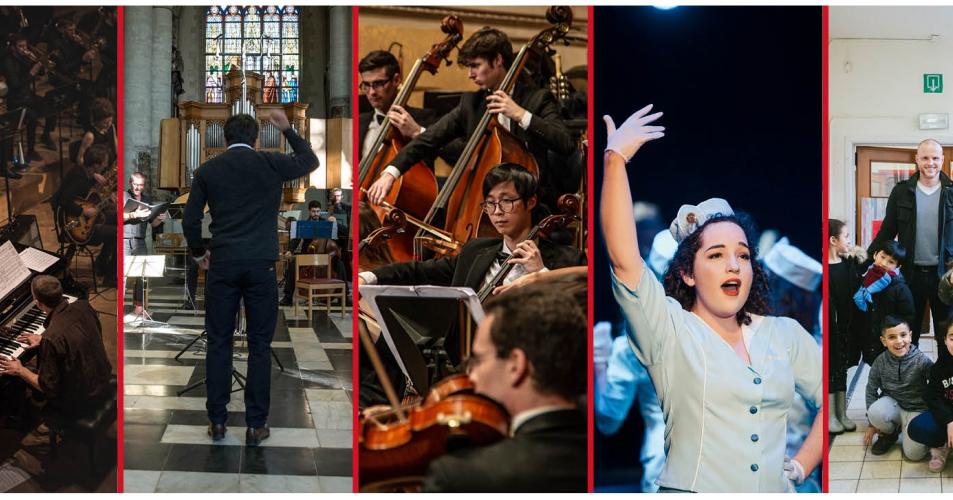 The Koninklijk Conservatorium Brussel organises annual Info moments in the form of: Open Days during the week, Info afternoon over the weekend and for the first time also Digital and Hybrid Info Days!
The time slots are always based on the time zone GMT+1 in winter and GMT+2 in summer.
Calendar Info moments 2021-2022
For the Music programme
Sat 12/03/2022 ONLINE Info Day

Mon 21 up to and including Fri 25/03/2022 PHYSICAL open classes >> Please send an email to secretariaat.kcb@ehb.be to participate.
For the Musical (singing, dancing and acting) programme
Sat 12/03/2022 ONLINE Info Day

Sat 19/03/2022 PHYSICAL Info Day
For the department of Educational Programmes (a programme of the RITCS & KCB)
Sat 25/06/2022 Info Day

Sat 10/09/2022 Info Day
More information about registration, schedule and hours of the day will be communicated soon. Depending on the sanitary measures imposed, this information may change.
The KCB can also be found during the digital SID-ins!
Come walk in digitally and engage in a conversation (via chat or video) with one of our professors from the Music, Musical or Educational Training programmes.
Dates:
Wednesday, 16 February 2022, from 9 a.m. to 5 p.m. 

Saturday, 19 February 2022, from 10 a.m. to 4 p.m. 

Wednesday, 23 February 2022, from 9 a.m. to 5 p.m.
The SID-ins are a fair where most opportunities to study in Flanders are highlighted and explained. This fair is organised by the government and is free of charge for everyone.
Any questions?
Do not hesitate to contact our secretariat staff, they are there for you all year round.
You can also ask your question to a specific teacher.
Or stay informed through the newsletter of the Koninklijk Conservatorium Brussel.