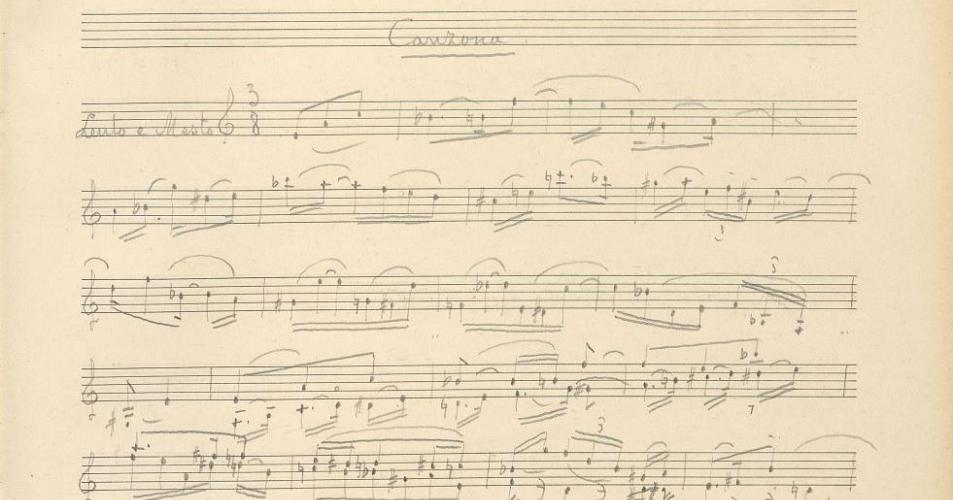 The Lavergne Manuscript
The Lavergne manuscript is from now on free accessible, as an online facsimile or as download as a PDF. This manuscript, named after the former owner, the violinist Josette Lavergne, is a sketchbook by Eugène Ysaÿe. This autograph was donated to the Koninklijk Conservatorium Brussel – School of Arts Erasmus University College . Particularly fascinating is that the sketchbook contains a hitherto unknown sonata for solo violin unfortunately unfinished.
Click here to access the pages about the Lavergne manuscript
Click here for the online facsimile
Clickhere for the modern transcriptions
____________
The choice of Rossini.
Rossini made a far-reaching choice in 1829: he stopped composing operas. Extremely amazing as he was only 37 and at the top of this fame. 
It is now 150 years ago that the Italian maestro passed away. This is an ideal opportunity for the Conservatory to bring its unique Rossini heritage collection into the limelight.
The theme of the Heritage Day of 22 April 2018 is 'Choose'. Logical that the Conservatory chooses Rossini.
What do we offer?
Exhibition with continuously guided tours from 10 am to 6 pm
Concerts of 30' with music by Rossini at 11.30 am, 2.30 and 5 pm with soprano Florencia Molinero, mezzo Victorina Eeckeloo and pianist Jelena Pisec.
Musical intermezzo at 3.30 and 4.15 pm with the flutists Michael De Almeida Cordeiro and AnnVan Gansen and pianist Tom Sagliocco.
Free access.
Address: Rue de la Régence 30a, 1000 Brussels.
Click here for the full range of Erfgoeddag 2018
__________
Follow our Facebookpage
Follow us to experience the richness of our collections: