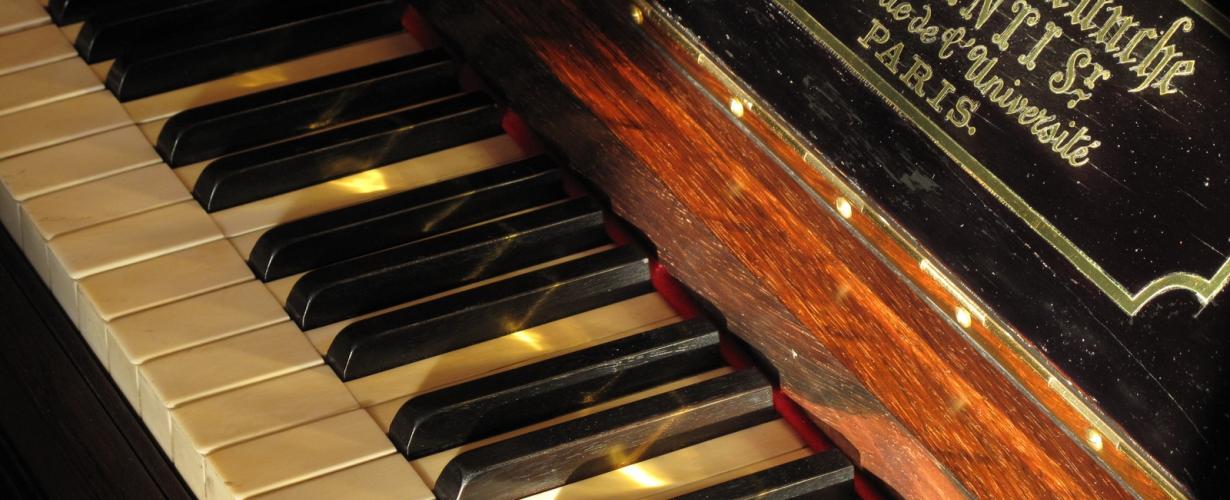 bachelor of master in de Kunsten
Fortepiano
Welcome to the Koninklijk Conservatorium Brussel!
With a Bachelor and Master of the Brussels Conservatoire you are set for an inspiring professional career! If you want to join an international orchestra or end up doing something entirely different with your degree, our programmes are the ideal preparation for a bright future.
The KCB focusses on the broad artistic formation of each individual. The lessons are based on direct interaction between teacher and student due to the small amount of students in each class. The great number of orchestral productions each year allows us to gain experience on the stage and learn the ins and outs of the greatest pieces is in music history.

Bachelor

| Required Subjects | Ba1 (Credits) | BA2 (Credits) | BA3 (Credits) |
| --- | --- | --- | --- |
| Main instrument I, II, III | 18 | 18 | 24 |
| Chamber Music I, II, III | 3 | 6 | 6 |
| Basso Continuo/Applied Harmony 1,2,3 | 6 | 6 | 6 |
| Historical documentation 1, 2, 3 | 6 | 6 | 6 |
| Orchestra/consort. 1,2,3 | 3 | 3 | 3 |
| Philosophy and aesthetics of early music 1 |   |   | 3 |
| Theory and ear training 1,2 | 4 | 4 |   |
| Rhythm and intonation 1,2 | 5 | 5 |   |
| Harmony and analysis 1,2 | 9 | 9 |   |
| History of Music | 6 |   |   |
| Modules History of Music |   | 6 | 6 |
| Formal analysis 1 |   |   | 6 |
| Posture and movement | 3 |   | 3 |
| History of culture |   |   | 3 |
| Total Credits | 60 | 60 | 60 |
Master

| Required Subjects | MA1 (Credits) | MA2 (Credits) |
| --- | --- | --- |
| Main instrument IV, V (Master exam) | 27 | 30 |
| Chamber Music 4, 5 | 9 | 12 |
| Repertoire study/sight reading 1 | 3 |   |
| Accompanying Voice and Instruments | 6 | 6 |
| Historical documentation 4, 5 | 6 | 6 |
| Philosophy and aesthetics of early music 2 | 3 |   |
| Study of sources/edition | 3 |   |
| Artistic Research Practices |   | 6 |
| Optional Subjects | 3 |   |
| Total Credits | 60 | 60 |
Teaching Staff
In order to develop your talents to the fullest you need a teacher that is capable to help and motivate you in the right way. Our teaching staff is world renowned and have years and years of experience both as performers but also as pedagogues.
Do you have any specific questions before you register for the admission tests? Would you like to meet your teacher before you take the big step? Below is a list of all teachers with contact information.
(This list is under construction)
Piet Kuijken
Professor Piano / pianoforte and researcher
Piet Kuijken is a student of Jan Vermeulen; he studied at the Royal Conservatory of Music in Brussels under Jan Michiels, Arie van Lysebeth and André De Groote. He graduated with the highest honours from the piano and chamber music classes. In 1994, he received the CERA 'Youth and Music' award, beginning an eminent career.
Having received a BAEF scholarship, he continued his studies at the University of Indiana with Menahem Pressler, pianist of the Beaux Arts Trio (2000/01). He obtained a diploma at this university, and has participated in numerous masterclasses, including with Leonard Hokanson, Edward Auer, Victor Rosenbaum, Paul Crossley, and Jean-Philippe Collard. He has cooperated with the renowned New Music Ensemble, and won the Schumann Concerto Competition.
He has appeared at solo recitals, played with chamber ensembles and orchestras under the baton of conductors such as Avim Ostrovski, Zeeve Dorman, Robert Groslot, Norbet Nozy, Etienne Siebens, Silveer van den Broeck, Robert Casteels and Wieland Kuijken. He has performed in many European countries, as well as Japan and the United States. His wide repertoire spans from the Baroque to modern music; he performs on the harpsichord, pianos of various historical periods, and on modern instruments. He has participated in the Flanders Music Festival, the Chopin festivals of Ghent and Mariánské Lázně (Czech Republic), Ars Musica, De Nacht van Radio 3, Juventus, Fêtes Musicales de Savoie, Musicales Internationales Guil-Durance, Bach en Bauges, Bach en Combrailles, Berliner Tage für Alte Musik, Musica Antica in Magnano, and Organi Antichi in Bologna.
Since 1988, he has been linked with the Prometheus Ensemble, and has appeared in duos with pianist Bart Meynckens, clarinettist Henk Soen, cellist Karel Steylaerts, and his father Wieland Kuijken. He has also on numerous occasions played with the Oxalys, Ictus and Ensor ensembles, as well as Anne Cambier, Olga Pasiecznik, soloists of the Royal Flemish Philharmonic, and the Cinque Venti ensemble.
His discography includes works by Luc van Hove which he recorded with the Prometheus Ensemble (René Gailly), the chamber works of Debussy recorded with the Kuijken family for the Arcana label (this CD was awarded the Prix Choc 2000 from Le Monde de la Musique magazine), as well as the complete viola da gamba sonatas of Johann Sebastian Bach (with Wieland Kuijken). With Karel Steylaerts, he recorded the complete cello and piano works of Joseph Jongen for the Phaedra label (In Flanders Fields).
Piet Kuijken is a lecturer at Koninklijk Conservatorium Brussel and the Music Academy in Anderlecht.

Boyan Vodenitcharov
Professor Piano, Researcher
Boyan Vodenitcharov studied at the conservatory in Sofia. In 1979 he received the 2nd prize at the international competition in Senigallia. Thereafter he became 3rd laureate at the Busoni Competition (1981) and at the Queen Elizabeth Competition (1983). He completed his studies with Leon Fleisher at the Peabody Conservatory in Baltimore.
Boyan Vodenitcharov is a valued pianist in Europe, the United States, Canada and Japan. He has performed at the Palais des Beaux Arts in Brussels, the Amsterdam Concertgebouw, the Palais de la Musique in Strasbourg, the Smetana Hall in Prague and the Suntory Hall in Tokyo. Vodenitchrov is also fascinated by old instruments, with which he recorded several CDs. Boyan Vodenitcharov is also active as a composer and improviser. Some of his works were performed in France, Germany, Belgium and Bulgaria. Currently he is a teacher of piano, pianoforte and improvisation at the Royal Conservatory of Brussels.
Contact Boyan Vodenitcharov: