Interviews about the partially reopening of the school and how they experienced it
Alexandre Philippot, reception staff member
How's the reception process going?
"Through the weekly reservation of classes, we have a controllable number of people on campus. Thanks to clear signalling, people are prevented from crossing each other. The distance between students is maintained by, among other things, indicating a different route if one wants to enter or leave the school, in the form of a one-way traffic." 
What hygiene measures are maintained?
"The initiative towards regular hand hygiene is prominent. Several hand gels are fixed to the walls of the school. On top of this, each student receives a personal van of hand gel, which they give back when leaving the school. If the student does not have a mouth mask, we also give one. The classrooms are cleaned after each three-hour block of study."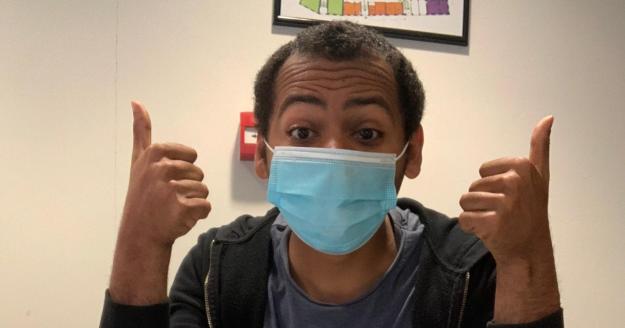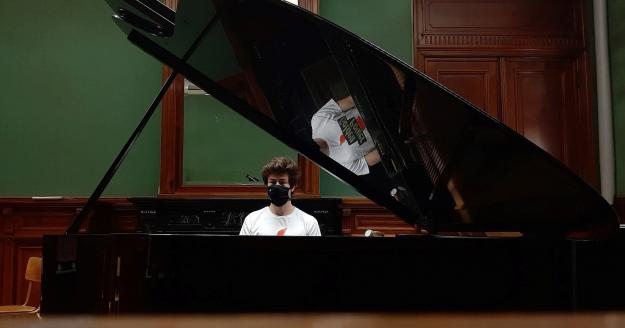 Alexander Declercq (MA2 Piano, Belgian student)
What's it like to be back at school?
"The school has never looked so neat! There's a lot of decontamination equipment available. Furthermore, you don't meet a lot of people thanks to the planned request for your study time, you know exactly when you are allowed to come. The atmosphere is a bit bizarre, it looks like another school in the same building. Also, in my five years of study at the KCB I have never been absent from our school for two months, not even during the summer holidays! That's why it feels a bit strange to be back. "
What is it like to be able to take lessons again and practise within the school?
"It's fun and motivating to be back in the building! When I take lessons I am much more productive and playing together with my fellow students (taking social distancing into account) is very nice. I now have three lessons a week."
As Master 2, your final exams are going through, how does that make you feel?
"I'm relieved that my final exams are going through! I realise that this is quite a challenge for the school from an organizational point of view. Most Conservatoires end the year with a permanent evaluation, our school decides that the Masters will take their exams, this motivates me enormously. I am very happy that I can finish my five years of study in a relatively normal way. It's a pity that my recital will not take place in front of a live audience. After I have my Master degree from the Koninklijk Conservatorium Brussel, I venture to continue my studies at the conservatoire of Cologne, Berlin or Hamburg."
What was it like for you as a musician during quarantine?
"As a piano student, it was hard to find a rehearsal room in Brussels. I asked around at piano shops and music schools but in vain. Then I returned to Bruges, where I am originally from, and fortunately I found a piano shop that allowed me to rehearse on the best pianos every day. Against my expectations you get used to playing with a mouth mask, if you have at least a good one".
Irene Monari (MA2 Trumpet, Italian student)
What's it like to be back at school?
"The school's organization is excellent. A lot of attention has been paid to the hand gels and signalling, everyone wears a mouth mask and I think it's very smart and hygienic that no keys are distributed anymore, all classrooms are open. But of course you can only enter on reservation. I have a very emotional and intense bond with our school, I don't exaggerate when I call it my home. As a foreign student (who also plays a loud instrument) I usually spend most of my time between the familiar walls of the school, where I have grown so much in the past three years and where I have learned the most. It was strange to see the school so empty and at the same time very familiar to be able to see the building and the people who keep it running again. And to have a short chat with our mouth masks on!"
What is it like to be able to take lessons again and practise within the school?
"I'm lucky to be able to go back to school, this was truly a blissful event. Because when you study at home it is more difficult to focus (the neighbours, the roommates, the other stimuli). At school you are in a safe environment where you have room to express yourself, to experiment, in other words, to feel free. What I have also really longed for is the routine. I can find myself as a musician again, even walking with my instrument on my back feels wonderful! I am very happy that I can practice again in a productive way, I go to school with a purpose. It's as if my life has become a bit more lively again."
Anything else you want to share?
"I am a student who needed exceptional help during corona times, the school took this into account and found a solution. I was allowed to enter the school a week earlier to be able to play my amazing instrument: Trumpet!"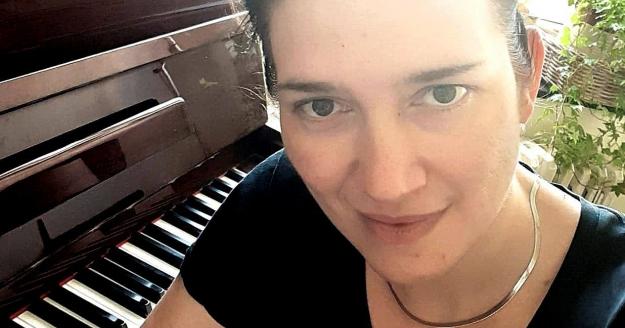 Tzvetana Gigova, (Piano Accompaniment, 8 years at our school)
What's it like to be back at school?
"I'm very happy to be back and see the colleagues and the students again. The reorganization of the school is not so strange to me, we have been living for more than two months with regulations such as mouth masks, hand gels, social distancing,... Everyone also cooperates because nobody wants to make the situation more difficult than it already is."
What's it like to coach again?
"The organization and cooperation run smoothly and there is more than enough room to work in a safe environment. Working together with colleagues is not so different, but we often have to laugh because of the mouth masks. It's quite a funny sight and it's not always easy to understand each other, especially with so many non-native speakers together. Many students have stayed in their own country, at the moment I have two students that I coach."
How did you experience this quarantine?
"I feel honoured to be able to come back to work and know how lucky I am in these times of crisis, especially because in so many other institutions, working is not possible. These times have allowed the form of streaming to boom, it was already common in the cultural sector but now it has grown exponentially. It is an adaptation but it certainly succeeds. I hope that as of September, life at our school will be back to normal, just as it was before corona times. We keep up the positive and good spirits, everything blows over, including misfortunes."