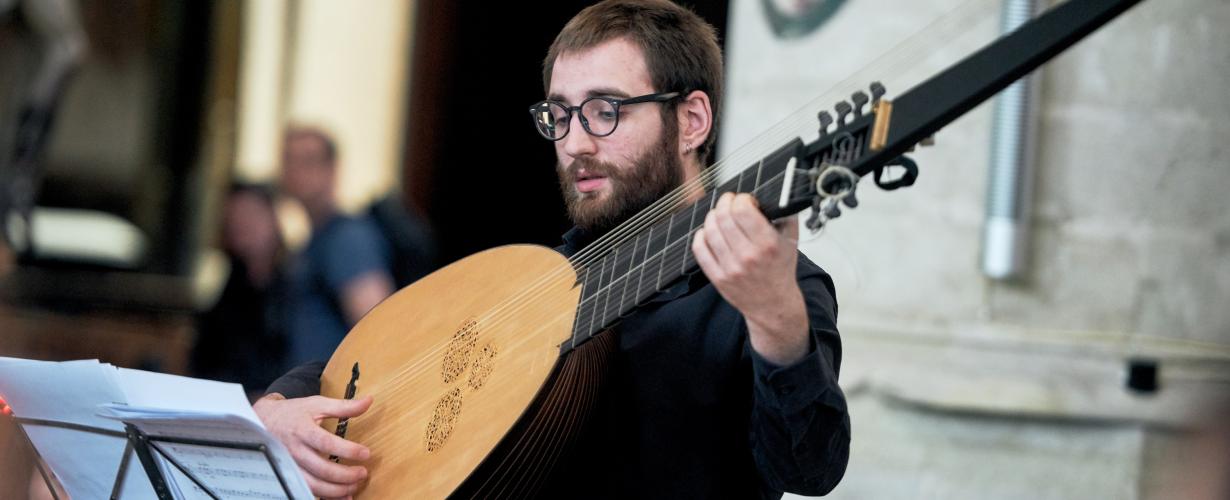 bachelor of master in de Kunsten
Historical Plucked Instruments
Welcome to the Koninklijk Conservatorium Brussel!
With a Bachelor and Master of the Brussels Conservatoire you are set for an inspiring professional career! If you want to join an international orchestra or end up doing something entirely different with your degree, our programmes are the ideal preparation for a bright future.
The KCB focusses on the broad artistic formation of each individual. The lessons are based on direct interaction between teacher and student due to the small amount of students in each class. The great number of orchestral productions each year allows us to gain experience on the stage and learn the ins and outs of the greatest pieces is in music history.
Bachelor

| Required Subjects | Ba1 (Credits) | BA2 (Credits) | BA3 (Credits) |
| --- | --- | --- | --- |
| Main instrument I, II, III | 18 | 18 | 24 |
| Chamber Music I, II, III | 3 | 6 | 6 |
| Basso Continuo / Applied Harmony 1,2,3 | 6 | 6 | 6 |
| Historical documentation 1, 2, 3 | 6 | 6 | 6 |
| Philosophy and aesthetics of early music 1 |   |   | 3 |
| Theory and ear training 1,2 | 4 | 4 |   |
| Rhythm and intonation 1,2 | 5 | 5 |   |
| Harmony and analysis 1,2 | 9 | 9 |   |
| History of Music 1, 2, 3 | 6 | 6 | 6 |
| Analysis of musical forms 1 |   |   | 6 |
| Posture and movement | 3 |   |   |
| History of culture |   |   | 3 |
| Total Credits | 60 | 60 | 60 |
Master

| Required Subjects | MA1 (Credits) | MA2 (Credits) |
| --- | --- | --- |
| Main instrument IV, V (Master exam) | 27 | 30 |
| Chamber Music 4, 5 | 9 | 12 |
| Study of Repertoire/prima vista 1, 2 | 3 | 6 |
| Accompanying Voice and Instruments | 6 | 6 |
| Historical documentation 4, 5 | 6 | 6 |
| Philosophy and aesthetics of early music 2 | 3 |   |
| Study of sources/edition | 3 |   |
| Artistic Research Practices |   | 6 |
| Optional Subjects | 3 |   |
| Total Credits | 60 | 60 |
Teaching Staff
In order to develop your talents to the fullest you need a teacher that is capable to help and motivate you in the right way. Our teaching staff is world renowned and have years and years of experience both as performers but also as pedagogues.
Do you have any specific questions before you register for the admission tests? Would you like to meet your teacher before you take the big step? Below is a list of all teachers with contact information.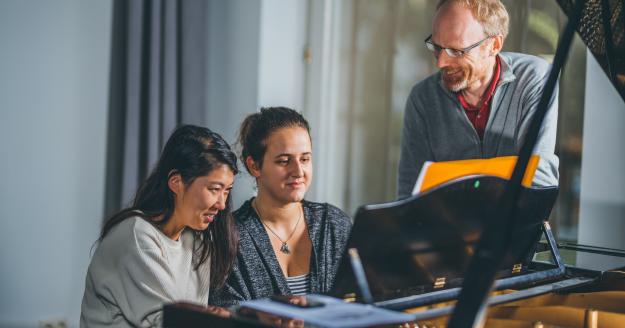 Xavier Diaz-Latorre
Teacher Historical Plucked Instruments
Xavier Díaz Latorre was born in Barcelona in 1968. He studied at advanced level  with Oscar Ghiglia at the Musikhochschule, Basel, graduating in 1993. His subsequent interest in early music led him to study the lute with Hopkinson Smith at the Schola Cantorum Basiliensis. He has completed several courses in choral conducting and a post-graduate course in orchestral conducting. He has been awarded several international performance prizes in France and Spain. 
From 1995 to 2005 he has been actively involved in the world of baroque opera, having participated in major productions such as Semele (Handel) at the Berlin State Opera with the Akademie für alte Musik, Berlin, conducted by René Jacobs; L'Orfeo (Monteverdi) at the Goldoni Theatre, Florence, the Théâtre de la Monnaie, Brussels,  Covent Garden, London, the Grand Théâtre de Provence, Aix-enProvence, the Théâtre des Champs Élysées, Paris, and the BAM, New York, again under René Jacobs but with Concerto Vocale; L'Orfeo again, but with Le Concert des Nations and Jordi Savall at the Teatro Real, Madrid and the Liceu, Barcelona; Solimano (Johann Adolf Hasse) at the Berlin and Dresden State Operas with Concerto Köln and René Jacobs; La Serva Padrona (Pergolesi) at the Philharmonie, Berlin and Ludwigsburg Castle with the Balthasar-Neumann Ensemble and Thomas Hengelbrock; Dal Male il Bene (Marco Marazzoli and Antonio Maria Abbatini) at the Landestheater, Innsbruck with Concerto Vocale and Attilio Cremonesi; Don Chisciote della Mancia in Sierra Morena (Francesco Bartolomeo Conti) with the University of Salamanca Baroque Orchestra and Wieland Kuijken. 

Xavier Díaz-Latorre frequently takes part in major international festivals in Europe, the USA, South America, and South Korea. He is a member of renowned orchestras and chamber groups such as those conducted by Jordi Savall – Hesperion XXI, La Capella Reial de Catalunya and Le Concert de Nations, and has been invited to perform with other major orchestras and ensembles such as the Orquesta Nacional de España or Al Ayre Español. He has his own vocal and instrumental ensemble, LaberintosIngeniosos, which specialises in performance of music from the Spanish Golden Age. The group's kirst disc, Danzas de Rasgueado y Sones de Palacio, with music by the Aragonese composer Gaspar Sanz, recorded on the Zig-Zag Territoires label, has received excellent reviews in the media, and has been broadcast by several international radio stations throughout Europe, Israel, Australia, South Korea and North America. Laberintos Ingeniosos has now made further CDs of music from the Iberian Peninsula performed on period instruments, such as Goyesca, seguidillas boleras, with music by Fernando Sor, and "...entre el cielo y el inkierno...", with works by Francisco de Guerau and José Marín. In 2019 LaberintosIngeniosos has recorded a CD for Cantus-Records with music of Santiago de Murcia. In addition, Xavier DíazLatorre has taken part in over 30 CDs for Alia Vox and Deutsche Harmonia Mundi, and has made recordings for numerous television and radio stations in Europe, North and South America and Korea. 

As a soloist, Xavier has recorded several CD's for two major labels. In 2013 the Spanish label Cantus-Records released La Guitarra dels Lleons where Díaz-Latorre played on four guitars of the Museu de la Música de Barcelona, specially restored for this project. The Belgian label Passacaille released Complete works for guitar by Francisco Guerau, a 3 CD's album in 2013, two new CD's: Stolen Roses with German music for the Lute and Robert de Visée with music for the Theorbo and for the Baroque Guitar in 2017 and Los Libros del Delphín, a CD devoted to the composer Luys de Narváez containing complete solo works for vihuela by this composer , in 2019. He has been invited to give lectures and masterclasses at major music academies such as  Schola Cantorum Basiliensis, Juiliard Scool New York, Sibelius Academy, University South California, and many other venues all over Europe, USA, Southamerica, Japan & Korea. He is regularly invited as a teacher at the LSA (Lute Society of America) in Cleveland (Ohio) and at the Amherst Early Music Festival (Connecticut). He is resident professor of lute, bass continuo and chamber music at the Escola Superior de Música de Catalunya (ESMUC) and teacher at the Koninklijk Conservatorium Brussel.