Employee day: Wellbeing & Quality
The KCB's annual employee day was held on the 4th of October.
The topics highlighted this year were: Resilient Artists and Qualitative Education.
Resilient Artists
Artistic creators face many physical, psychological and socio-artistic challenges during their studies and careers.
Dedicating efforts to prevention during their education is essential to increase their mental resilience in order to prevent mental health problems.
Researchers from AP Hogeschool, Bart Michiels (Applied Psychology) and Magda Thielemans (Koninklijk Conservatorium Antwerpen), were eager to present the results of their four-year research on "Resilient Artists".
The study investigated the challenges faced by creators from various artistic disciplines and how their psychological resilience can be strengthened.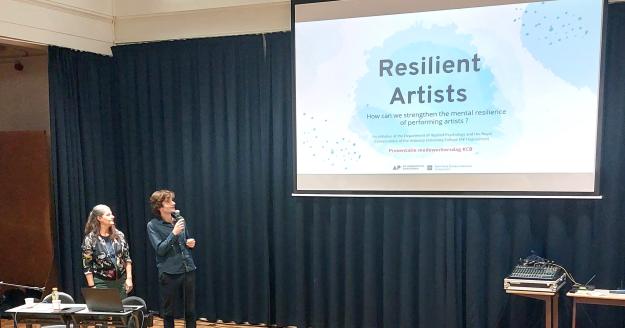 This research is highly relevant to educational institutions in the arts disciplines.
The director and employee members of KCB were present, as were the director and some employees of RITCS.
AP Hogeschool, Koninklijk Conservatorium Antwerpen and HOGENT were also represented.
Institutional review & Qualitative education
The second part of the employee day was only for KCB-EhB members.
Cynthia De Bruycker, Director of Education EhB, and Pieter Soete, Head of Service Quality Assurance EhB, briefed us on the new approach to institutional review and its link to qualitative education.

The final topic of our employee day was presented by Stefaan Guilliams, departmental coordinator KCB. He spoke about the renovation and restoration project of our main building (Regentschapsstraat 30). A challenge that also brings opportunities.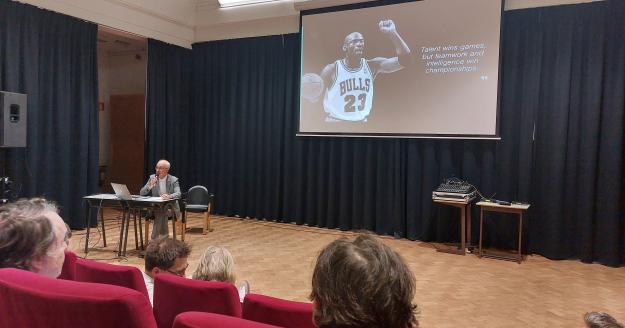 As a thank you for the endless efforts of our employees and as a small token of appreciation around Teacher's Day, which fell on the 5th of October, everyone went home with a tote bag that they can put to good use during the new academic year.
Thanks to all employees who helped organise this fascinating day, with an enjoyable keynote and excellent technical support.
Wellbeing and quality are foundations we stand behind and guarantee with the entire KCB-EhB organisation, each and every day.
Check out the photos and videos on our socials