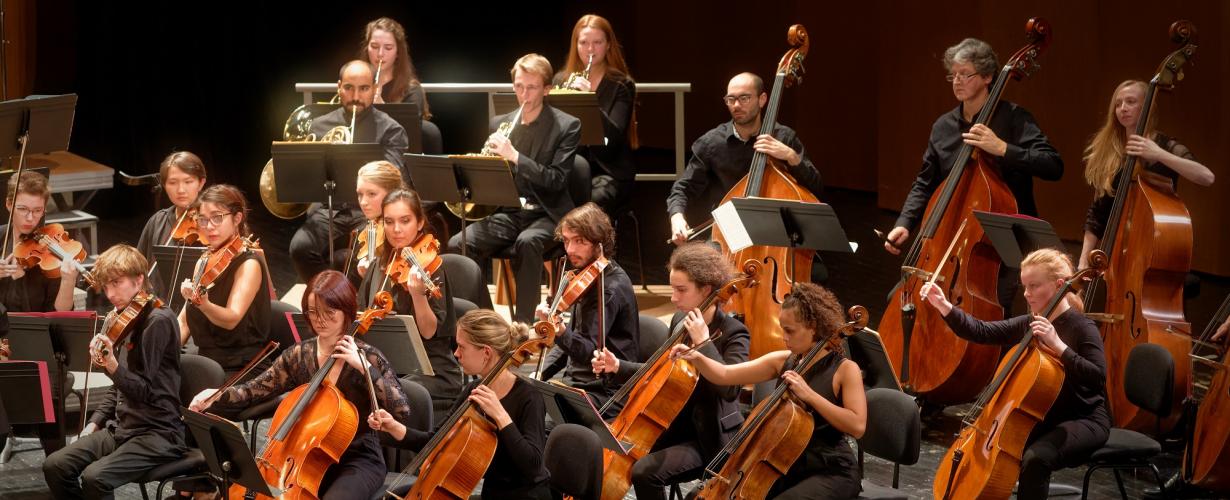 Location
Concert Hall, Regentschapsstraat 30 Brussels
Reservation
Mandatory | see below
Footprints | Mendelssohn in the footsteps of Mozart
Mendelssohn and Mozart have more in common than you would say at first sight. Their music breathes the same purity, naturalness and spontaneity.
Mendelssohn, who was named by Schumann as "the Mozart of the 19th century", completed - as Mozart did - some of his works entirely in his head before putting them down on paper. They both displayed an exceptional musical talent at a very young age. The German writer Johann Wolfgang von Goethe (1749-1832), who got to know both composers as young children, immediately compared Mendelssohn with the prodigy Mozart. Through this programme we follow Mendelssohn in the footsteps of his 53-years-older musical twin brother.
Conductor
Wouter Lenaerts
 
Soloist
Alice Van Leuven, violin
 
Orchestra 
KCB students from the department of Music - Classical
 
Programme
Felix Mendelssohn, Ouverture 'Die Hebriden'
Wolfgang Amadeus Mozart, Vioolconcerto Nr. 5 in A (K219)
Felix Mendelssohn, Schotse Symfonie Nr. 3 in a (Op.56)
Reservations & Reduced prices
This event is free of charge for children under the age of 12. As well for employees and students of KCB, CrB, RITCS and EhB, they may bring a second person of their choice for free to get acquainted with our wonderful institution. Be sure to have your adequate ID with you.
We offer a reduced rate for seniors and groups of 10 people or more. Be sure to have your adequate ID with you.
We hope to welcome you all in a pleasant and safe way. The KCB will therefore be using the Covid Safe Ticket for this event.
Good to know:
Prepare your visit now and check out the webpage about the Covid Safe Ticket. This ticket can also be printed.
 

In case you don't obtain a Covid Safe Ticket, you can submit a negative test that has to be valid within the limited hours of sample collection. The hours depend on the type of test that was used. Anyone can obtain such a test from a pharmacist or doctor. See here for more information.
 

Everyone who is part of the audience has to present a valid Covid Safe Ticket or a negative test, this allows us to enjoy the event without a mouth mask and without social distancing.
 
Because we hover somewhere between the education and culture sector and are also located in Brussels, it is not easy to map out these guidelines, furthermore the measures can change soon. We will try to inform you as precisely and quickly as possible. 
Thank you for respecting these guidelines, so that we can continue making music.