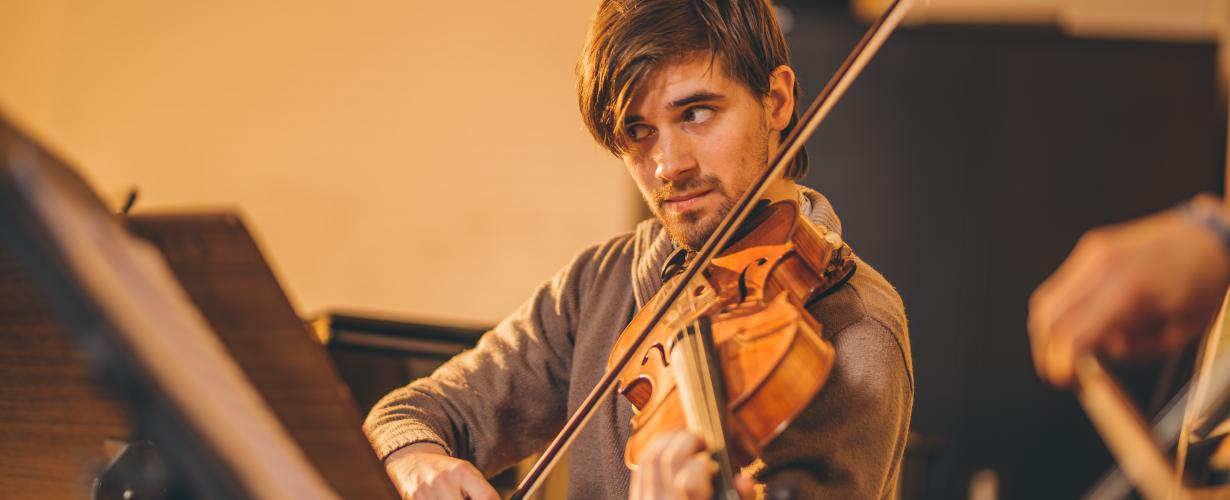 bachelor of master in de Kunsten
Viola
Welcome to the Koninklijk Conservatorium Brussel!
With a Bachelor and Master of the Brussels Conservatoire you are set for an inspiring professional career! If you want to join an international orchestra or end up doing something entirely different with your degree, our programmes are the ideal preparation for a bright future. 
The KCB focusses on the broad artistic formation of each individual. The lessons are based on direct interaction between teacher and student due to the small amount of students in each class. The great number of orchestral productions each year allows us to gain experience on the stage and learn the ins and outs of the greatest pieces is in music history. 
 
Bachelor

| Required subjects | Ba1 (CR) | BA2 (CR) | BA3 (CR) |
| --- | --- | --- | --- |
| Main instrument I, II, III | 24 | 24 | 27 |
| Chamber music 1, 2 |   | 6 | 6 |
| Orchestra 1, 2, 3  | 6 | 6 | 6 |
| Theory and ear training  1, 2 | 4 | 4 |   |
| Rhythm and intonation   1, 2 | 5 | 5 |   |
| Harmony and analysis   1, 2 | 9 | 9 |   |
| History of music | 6 |   |   |
| Modules 'History of music' |   | 6 | 6 |
| Formal analysis 1 |   |   | 6 |
| Encyclopedia and research | 3 |   |   |
| Posture and movement | 3 |   |   |
| History of culture |   |   | 3 |
| Optional subjects |   |   | 6 |
| Total  | 60 | 60 | 60 |
Master

| Required subjects | Ma1 (CR) | Ma2 (CR) |
| --- | --- | --- |
| Main instrument IV, V (master exam)  | 27 | 30 |
| Chamber music 3, 4 | 6 | 12 |
| Orchestra 4, 5 | 6 | 6 |
| Formal analysis 2 | 6 |   |
| Introduction to philosophy | 3 |   |
| Artistic Research Practices | 3 |   |
| Optional subjects | 9 | 12 |
| Total  | 60 | 60 |
Atico Razera
Atico Razera graduated in 2016 from the Koninklijk Conservatorium Brussel and has played in the Symfonie Orkest Vlaanderen, the Brussels Chamber Orchestra and is now active with the Aarhus Symfonieorkester in Denemark.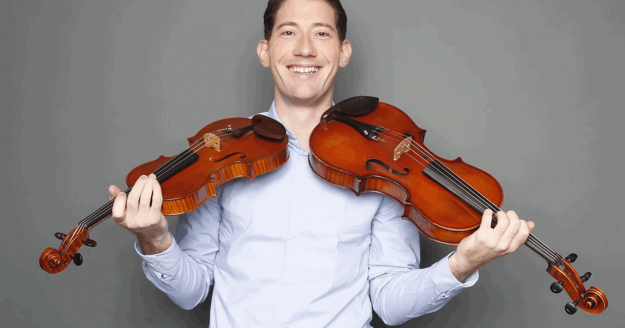 Teaching Staff
In order to develop your talents to the fullest you need a teacher that is capable to help and motivate you in the right way. Our teaching staff is world renowned and have years and years of experience both as performers but also as pedagogues. 
Do you have any specific questions before you register for the admission tests? Would you like to meet your teacher before you take the big step? Below is a list of all teachers with contact information.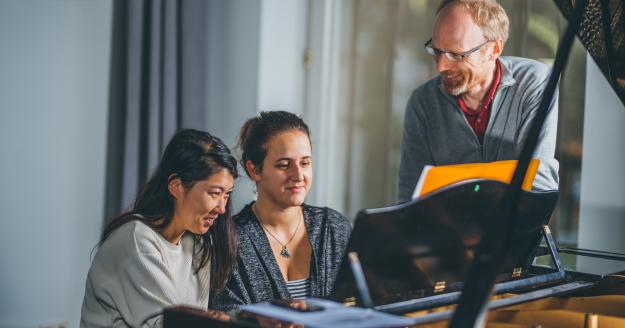 Paul De Clerck
Professor Viola
After studying the viola with E. Schiffer at the Brussels Royal Conservatory, Paul De Clerck continued his studies with A. Gertler, B. Giuranna (Italy) and E. Vardi (New York).
He was a member of the chamber orchestra I Fiamminghi, the Arriaga String Quartet and Brussels String Quartet.
Paul De Clerck performed as a soloist with various international ensembles and orchestras, conducted by Benzi, Tamayo, Cambreling, Layer, Montgomery, Rundel, Schönwandt, Octors,... He was solo violist at the Symphony Orchestra of La Monnaie, a fixed job that he quit after ten years to focus on chamber music and contemporary music with - a.o. - Ensemble Modern Frankfurt and ICTUS.
Paul De Clerck has been intensively working on historical performance practice with Collegium Vocale Gent, as a soloist with Anima Eterna and with musical partners such as Piet Kuijken, Boyan Vodenitcharov, Frank Theuns. He teaches the viola at the Brussels Royal Conservatory and chamber music at the Orpheus Institute in Ghent. Paul De Clerck is a regular guest teacher at master classes in Belgium and abroad. As an actor-musician, he has worked with Needcompany, Dito Dito and Stan.

Tony Nys
Professor Viola & Chamber Music, PhD student in the Arts
Tony Nys started his musical training at the age of five taking up violin lessons with Tomiko Shida. Later he continued his studies at the Koninklijk Conservatorium Brussel with Clemens Quatacker and Philippe Hirschhorn.
Between 1994 and 1997, he was the first violin of the Fétis String Quartet, attending masterclasses with the Alban Berg Quartet, the Borodin Quartet and the Amadeus Quartet. Ever since, chamber music has been a natural environment for him.
As a violist in the Danel quartet from 1998 up to 2005, he played worldwide in numerous festivals, recordings and performances of newly composed pieces.
Since 2005, he is a fix member of the TrioFenix Stringtrio and he has regularly worked with ensembles such as Prometheus, Ictus, Ensemble Modern, Explorations, Oxalys … Between 2008 and 2018, he was also a member of the Malibran Stringquartet.
He shared the concert stage with many renowned artists and ensembles such as the Borodin Quartet, the Brodsky Quartet, the Petersen Quartet, Garth Knox, Gérard Caussé, Alina Ibrahimova, Philippe Graffin, Frank Braley, and many more …
Tony Nys played as viola-solo in La Monnaie Symphony Orchestra between 2007 and 2018. In that position he was regularly invited by many orchestras in Belgium, Holland, Germany and the UK.
As a member of the Mahler Chamber Orchestra, he played worldwide with conductors such as Claudio Abbado, Pierre Boulez, Gustavo Duhamel …
Currently he teaches viola and chamber music and is head of strings at the Koninklijk Conservatorium Brussel. He also teaches the Advanced Chamber Music Course at the Orpheus Instituut in Gent.
To start your study at the Koninklijk Conservatorium Brussel you will have to pass an artistic admission test. Most specializations have two sessions: one before the summer break and one in September. As candidate-student you can register for one of these sessions. 
For information regarding the admission tests like dates, the programme you need to prepare and the admission requirements and costs you can click on the picture below:
Any question?
For more information on this programme you can contact the student administration via secretariaat.kcb@ehb.be.