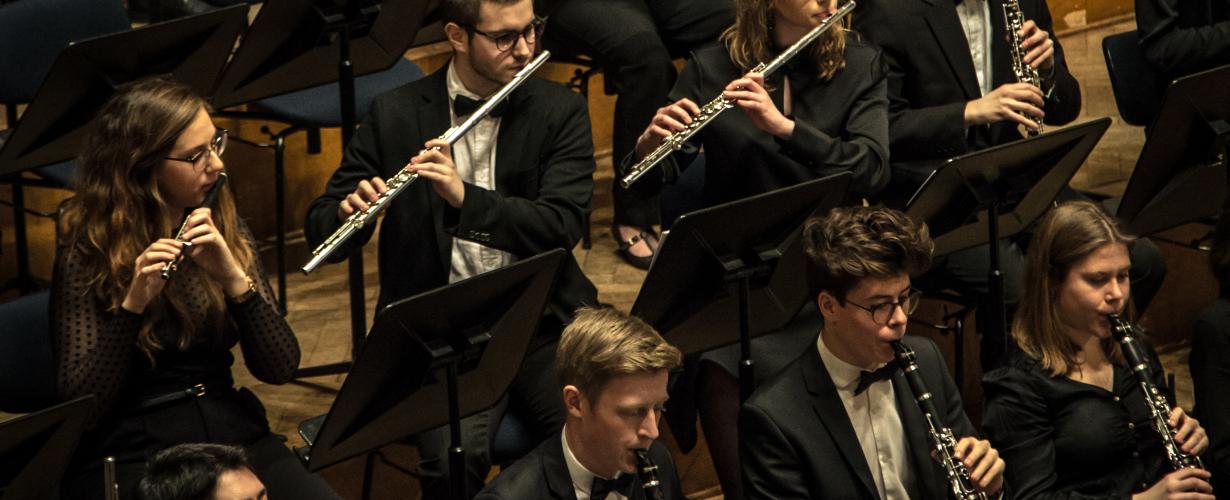 Location
Concertzaal, Regentschapsstraat 30a Brussel
Reservation
Further below this page or by 0476 07 58 47
Norbert Nozy, conductor
Victor Legley, Paradise Regained
Yasuhide Ito, Ce qu'il nous enseigna (for bariton and band)
Olivier Penard, Les eaux filigranes (pour quator à cordes et orchestre d'harmonie)
Paul Gilson, Tweede Rapsodie
7.15 pm – 7.45 pm Introduction by drs. Luc Vertommen (room A028):  Paul Gilson (1865-1942) : father of the Belgian symphonic music for wind orchestra. Gilsons Tweede Rapsodie for brass band: background and influences from the musical melting pot Brussels at the beginning of the 20th Century. Gilson was a pioneer as for the composing for and orchestrating of a big brass band and had a big influence on a whole generation of Belgian composers.
'Paradise regained', a poem by Hendrik Marsman, inspired Legley to write two compositions, first for symphony orchestra and then for Harmonic Ensemble. He notes, dryly, in the second score: 'This piece destroys and replaces the preceding one.
The second Rhapsody by Paul Gilson is a milestone in the Harmonic repertoire. Gilson treats the ensemble as a full symphonic ensemble. His intriguing and rich sound palette still enchants until this day. Surrounded by these Belgian works, Norbert Nozy chose two contemporary and fascinating compositions. The French composer Olivier Penard will challenge you with his mix of minimalism, jazz and film music. The Japanese composition of Yasuhide Ito opens a sensitive dialogue between baritone and orchestra.
The electronical registration is closed, however you are more then welcome to come spontaneously to the concert.
There are enough tickets left.