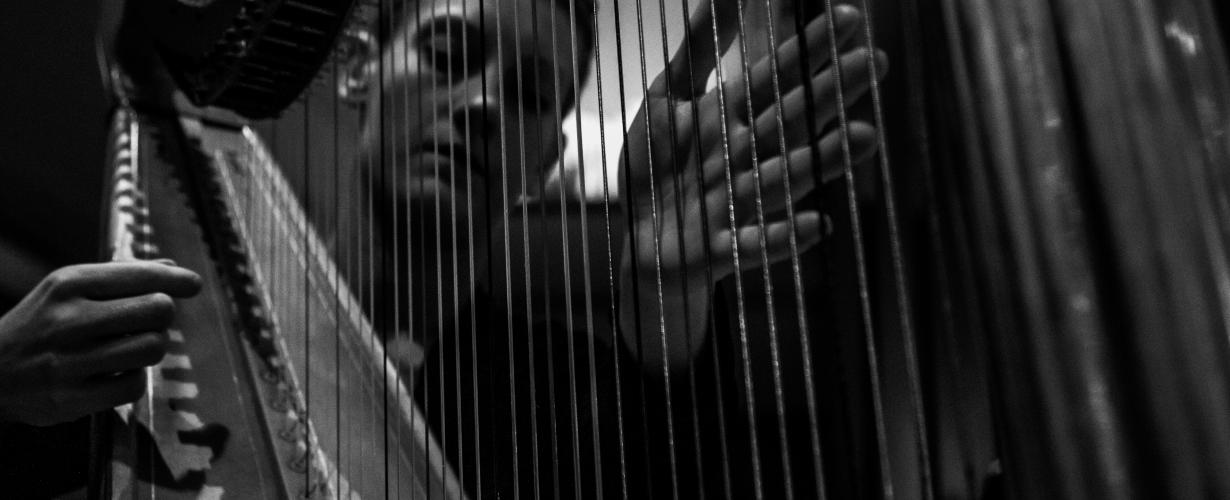 bachelor of master in de Kunsten
HARP
Welcome to the Koninklijk Conservatorium Brussel!
With a Bachelor and Master of the Brussels Conservatoire you are set for an inspiring professional career! If you want to join an international orchestra or end up doing something entirely different with your degree, our programmes are the ideal preparation for a bright future. 
The KCB focusses on the broad artistic formation of each individual. The lessons are based on direct interaction between teacher and student due to the small amount of students in each class. The great number of orchestral productions each year allows us to gain experience on the stage and learn the ins and outs of the greatest pieces is in music history. 
Joachim Jamaer
Student Music

Bachelor

| Required subjects | Ba1 (CR) | BA2 (CR) | BA3 (CR) |
| --- | --- | --- | --- |
| Harp I, II, III | 24 | 24 | 27 |
| Chamber music 1, 2 |   | 6 | 6 |
| Choir or 1 orchestra project 1, 2, 3 | 3 | 3 | 3 |
| Theory and ear training 1, 2 | 4 | 4 |   |
| Rhythm and intonation 1, 2 | 5 | 5 |   |
| Harmony and analysis 1, 2, 3 | 9 | 9 | 9 |
| History of music | 6 |   |   |
| Modules 'History of music' |   | 6 | 6 |
| Contemporary music  |   |   | 6 |
| Encyclopedia and research | 3 |   |   |
| Posture and movement | 3 |   |   |
| History of culture | 3 |   |   |
| Optional subject |   |   | 3 |
| Total | 60 | 60 | 60 |
Master

| Required subjects | Ma1 (CR) | Ma2 (CR) |
| --- | --- | --- |
| Harp IV, V (masterproef)  | 27 | 30 |
| Chamber music 3, 4 | 6 | 12 |
| Choir or 1 orchestral project  4,5 | 6 | 6 |
| Formal analysis 1,2 | 6 | 6 |
| Introduction to philosophy | 3 |   |
| Artisctic Research Practices | 3 |   |
| Optional subject | 9 | 6 |
| Total | 60 | 60 |
Agne Keblyte
Agne Keblyte studied at the National M.K. Čiurlionis Art School, High School of Music in Geneva and at the Koninklijk Conservatorium Brussel with professor Jana Bouskova.
She's a laureate of various international harp competitions:  2nd place in the 18th International Harp Contest in Israel (2012), 1st and special price for the interpretation of the concertino of  Ferenc Farkas during the 2nd International Harp competition in Szeged (2010, Hongarije).
Alida Fabris
Alida Fabris originally from Italy and studied in Switzerland, the United States and at the Koninklijk Conservatorium Brussel.
Alida is harpist in the National Opera van Chili. 
Chelsea Lane
Amerikan harpist Chelsea Lane studied at Yale and obtained various prizes there like the Wrexham Prize in Music for Excellence in Performance, the Selden Memorial Prize for Musical Accomplishment and the first price in the William Waite Concerto Competition.
Chelsea finished her Master at the KCB with professor Jana Bouskova and is currently working on her doctorate of Musical Arts in Performance at the City University of New York Graduate Center.
Teaching Staff
In order to develop your talents to the fullest you need a teacher that is capable to help and motivate you in the right way. Our teaching staff is world renowned and have years and years of experience both as performers but also as pedagogues. 
Do you have any specific questions before you register for the admission tests? Would you like to meet your teacher before you take the big step? Below is a list of all teachers with contact information.
Jana Bouskova
Professor Harp
Jana Boušková belongs to the elite category of the world renowned harpists, who are thanks to their distinct artistic qualities invited to the most prestigious world scenes. The world acclaimed artist from the USA – prof. Susan McDonald – has qualified Jana Boušková as a talent of the century and the world reviewers rate her performances in similar way and emphasize especially breathtaking technique perfection, brilliant precision, esprit, profoundness, etheric sensitivity and power of her expression. Moreover, Jana Boušková together with her professor and mother Libuše Váchalová are discoverers and authors of some adaptations of distinguished compositions of the Czech repertoire, e.g. Vltava (Moldau) by Bedřich Smetana, or the compositions by Antonín Dvořák or Josef Suk, which considerably enriched the world harp repertoire.
Thanks to her distinct artistic successes Jana Boušková rapidly became a very demanded harpist performing on the prominent stages all over the world as a soloist as well as in cooperation with such interpreters like Maxim Vengerov, Jurij Bashmet, Patrick Gallois, Jiří Bárta, Christian Tetzlaff, Sharon Kam or Mstislav Rostropovič. This renowned cello virtuoso asked for the contact on Jana after listening to her performance in radio. Later, Jana premiered with Mstislav Rostropovich the compositions by Ravi Shankar in the frame of the festival in Evian (France) among others.
Jana Boušková regularly performs as a soloist as well as in chamber ensembles at important Czech and world concert venues and festivals. As a soloist in the symphony repertoire she cooperates with such orchestras as the Czech Philharmonic Orchestra, Prague Philharmonia, Chicago Simfonietta, Amsterdam Sinfonietta, Israel Philharmonic Orchestra, MDR Symphonieorchester Leipzig, Tokyo Chamber Orchestra etc. in the prominent concert halls around the world as Carnegie Hall New York, Berlin and Köln Philharmonic, Suntory Hall in Tokio, in Leipziger Gewandhaus, Symphony Center in Chicago or Concertgebouw in Amsterdam.
To start your study at the Koninklijk Conservatorium Brussel you will have to pass an artistic admission test. Most specializations have two sessions: one before the summer break and one in September. As candidate-student you can register for one of these sessions. 
For information regarding the admission tests like dates, the programme you need to prepare and the admission requirements and costs you can click on the picture below:
Any question?
For more information on this programme you can contact the student administration via secretariaat.kcb@ehb.be.