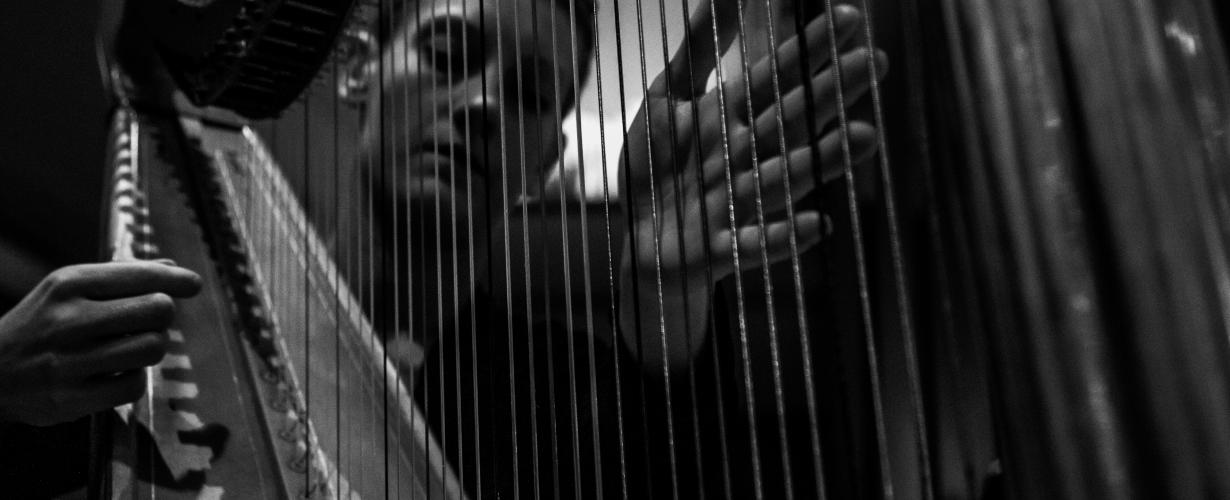 bachelor of master in de Kunsten
HARP
Welcome to the Koninklijk Conservatorium Brussel!
With a Bachelor and Master of the Brussels Conservatoire you are set for an inspiring professional career! If you want to join an international orchestra or end up doing something entirely different with your degree, our programmes are the ideal preparation for a bright future. 
The KCB focusses on the broad artistic formation of each individual. The lessons are based on direct interaction between teacher and student due to the small amount of students in each class. The great number of orchestral productions each year allows us to gain experience on the stage and learn the ins and outs of the greatest pieces is in music history. 
Joachim Jamaer
Student Music

Bachelor

| Required subjects | Ba1 (CR) | BA2 (CR) | BA3 (CR) |
| --- | --- | --- | --- |
| Harp I, II, III | 24 | 24 | 27 |
| Chamber music 1, 2 |   | 6 | 6 |
| Choir or 1 orchestra project 1, 2, 3 | 3 | 3 | 3 |
| Theory and ear training 1, 2 | 4 | 4 |   |
| Rhythm and intonation 1, 2 | 5 | 5 |   |
| Harmony and analysis 1, 2, 3 | 9 | 9 | 9 |
| History of music | 6 |   |   |
| Modules 'History of music' |   | 6 | 6 |
| Contemporary music  |   |   | 6 |
| Encyclopedia and research | 3 |   |   |
| Posture and movement | 3 |   |   |
| History of culture | 3 |   |   |
| Optional subject |   |   | 3 |
| Total | 60 | 60 | 60 |
Master

| Required subjects | Ma1 (CR) | Ma2 (CR) |
| --- | --- | --- |
| Harp IV, V (masterproef)  | 27 | 30 |
| Chamber music 3, 4 | 6 | 12 |
| Choir or 1 orchestral project  4,5 | 6 | 6 |
| Formal analysis 1,2 | 6 | 6 |
| Introduction to philosophy | 3 |   |
| Artisctic Research Practices | 3 |   |
| Optional subject | 9 | 6 |
| Total | 60 | 60 |
Agne Keblyte
Agne Keblyte studied at the National M.K. Čiurlionis Art School, High School of Music in Geneva and at the Koninklijk Conservatorium Brussel with professor Jana Bouskova.
She's a laureate of various international harp competitions:  2nd place in the 18th International Harp Contest in Israel (2012), 1st and special price for the interpretation of the concertino of  Ferenc Farkas during the 2nd International Harp competition in Szeged (2010, Hongarije).
Alida Fabris
Alida Fabris originally from Italy and studied in Switzerland, the United States and at the Koninklijk Conservatorium Brussel.
Alida is harpist in the National Opera van Chili. 
Chelsea Lane
Amerikan harpist Chelsea Lane studied at Yale and obtained various prizes there like the Wrexham Prize in Music for Excellence in Performance, the Selden Memorial Prize for Musical Accomplishment and the first price in the William Waite Concerto Competition.
Chelsea finished her Master at the KCB with professor Jana Bouskova and is currently working on her doctorate of Musical Arts in Performance at the City University of New York Graduate Center.
Teaching Staff
In order to develop your talents to the fullest you need a teacher that is capable to help and motivate you in the right way. Our teaching staff is world renowned and have years and years of experience both as performers but also as pedagogues. 
Do you have any specific questions before you register for the admission tests? Would you like to meet your teacher before you take the big step? Below is a list of all teachers with contact information.

Anneleen Lenaerts
Teacher Harp
Belgian harpist Anneleen Lenaerts is one of the leading soloists of her instrument. In December 2010 she was appointed Principal Harpist of the Vienna Philharmonic.
As a soloist Anneleen has performed with the Symphony Orchestra of Bavarian Radio, the Mozarteum Orchestra, Bruckner Orchestra Linz, the Philadelphia Chamber Orchestra, the Polish National Radio Orchestra, the Brussels Philharmonic, and the National Orchestra of Belgium amongst others.
Anneleen Lenaerts has made her solo debut at venues such as the Wigmore Hall in London, Carnegie Hall New York, Berliner Philharmonie, Salle Gaveau in Paris, Großes Festspielhaus in Salzburg, Bozar in Brussels and in festivals such as Rheingau Musik Festival, Dresden Musikfestspiele, Lockenhaus festival, Moritzburg Festival and Aspen Music Festival. Solo appearances have been recorded by various stations including BBC 3, Radio France Musique and Deutschlandfunk.
From an early age Anneleen started winning an impressive amount of prizes at international harp competitions: 23 prizes between 1997 and 2009. The "Grand Prix International Lily Laskine, where she won the first prize in 2005 and the ARD International Music Competition in Munich, where she was both a prize winner and winner of the Audience Prize, are particularly outstanding.
After the success of recording 3 harp concertos (by Glière, Rodrigo and Jongen) with the Brussels Philharmonic for Warner Classics and a CD with works by Schumann & Schubert with clarinettist Dionysis Grammenos, Anneleen signed an exclusive recording artist contract with Warner Classics. 2019 saw the release of a new recording with works by Nino Rota with the Brussels Philharmonic, Adrien Perruchon and Emmanuel Pahud and won an Opus Klassik, after being nominated in 4 different categories. Her previous solo album on Aliud Records comprises twelve transcriptions of some of the most popular piano pieces by Chopin and Liszt. In the same year she also received the "Flemish Community Honours" by the Government of Flanders for her outstanding contributions to society. 
Anneleen Lenaerts started playing harp with Lieve Robbroeckx. She continued her studies at the Conservatories of Brussels and Paris in 2008 and gained her Harp Master degree with highest distinction. She completed through the "Cours de perfectionnement" at the Ecole Normale de Musique de Paris with Isabelle Perrin. Besides harp Anneleen studied harmony, counterpoint and fugue at the Brussels Conservatory.
Find out more about Anneleen Lenaerts on her website.
To start your study at the Koninklijk Conservatorium Brussel you will have to pass an artistic admission test. Most specializations have two sessions: one before the summer break and one in September. As candidate-student you can register for one of these sessions. 
For information regarding the admission tests like dates, the programme you need to prepare and the admission requirements and costs you can click on the picture below:
Any question?
For more information on this programme you can contact the student administration via secretariaat.kcb@ehb.be.