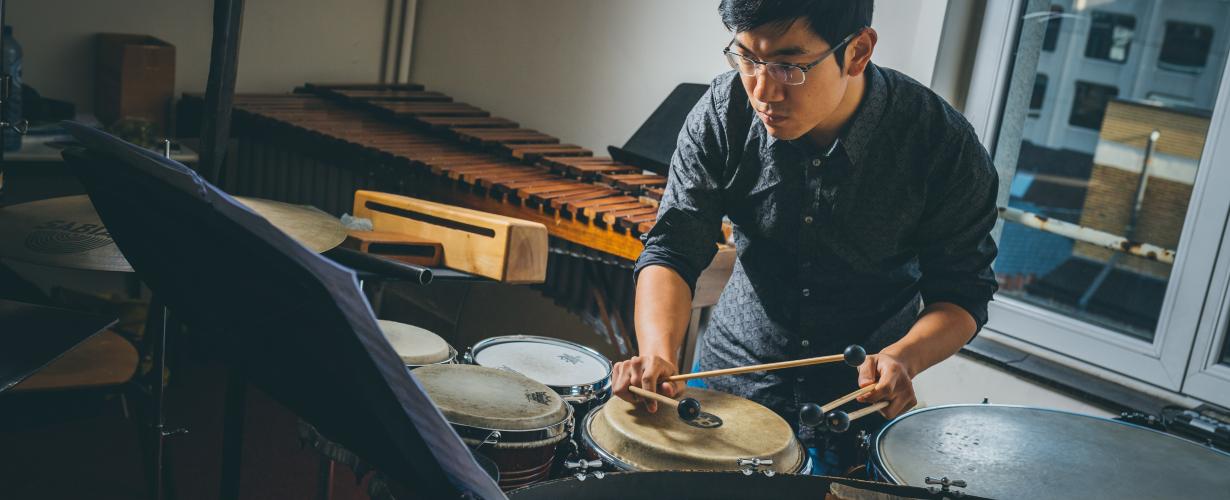 bachelor of master in de Kunsten
Percussion
For whom?
You want to pursue your passion for playing percussion and dream of a professional music career.
You want to further develop your artistic expertise with the help of internationally renowned professors.
You have the necessary knowledge and skills to pass the admission test.
 
Your future
With your degree in Percussion, you can become a freelance musician or play in an orchestra/ensemble. You can also continue studying and become an artist-teacher or perhaps an artistic researcher? This study programme is the preparation for a brilliant future both on and off stage.
Orchestra / Ensemble
Making music in a group format is important for your development and therefore compulsory during your studies. As a percussionist, you can join wind orchestra, symphony orchestra, play in the percussion concert or other ensembles.
Seminar & Masterclasses
Renowned guest professors from Belgium and abroad are invited to pass on their knowledge to you. In recent years, we welcomed Luigi Morleo, Lucas Van Merwijk, Rainer Römer & Philip Krause, among others.
Brussels
You will have the chance to study in a metropolis with both large concert halls as well as small jazz clubs, the ideal starting point for a professional music career. Your campuses are surrounded by beautiful cathedrals, trending coffee bars and green parks to unwind in.
As a percussion student at KCB, I can confidently say that the programme offers exceptional training from experienced teachers in a supportive and very inspiring environment. The curriculum is diverse and challenging, it covers a wide range of percussion styles and techniques, allowing me to develop skills and find my own artistic voice. Whether you are interested in orchestra or contemporary percussion music, the programme ensures that you will receive an amazing education that prepares you for a successful career in music.

After your study
Professional music career
With a Bachelor's and Master's degree in Music from the Koninklijk Conservatorium Brussel, you can choose many professional directions. Who knows, you might end up:
in a (inter)nationally renowned orchestra or ensemble
in the arts education field
in the social artistic field
at cultural institutions or governments as advisor or policy maker
Further studies
Abbreviated bachelor's degree
After your bachelor, you can move on to a master's degree and even an additional master's degree in another instrument, through a abbreviated bachelor's degree. Postgraduates are also among the possibilities.
Verkorte Educatieve Master Muziek (only in Dutch)
Merk je tijdens je studie dat lesgeven iets voor jou is? Aan het KCB kan je ook een Verkorte Educatieve master Muziek volgen. Zo kan je meteen aan de slag als kunstenaar-leraar.
Artistic researcher
Interested in a career as an artistic researcher? KCB organises various events around research and also offers you the opportunity to do a PhD in collaboration with the Brussels Arts Platform and the VUB (university).
Bachelor

| Required subjects | Ba1 (CR) | BA2 (CR) | BA3 (CR) |
| --- | --- | --- | --- |
| Main instrument I, II, III | 24 | 24 | 27 |
| Chamber music 1, 2 |   | 6 | 6 |
| Orchestra 1, 2, 3  | 6 | 6 | 6 |
| Theory and ear training  1, 2 | 4 | 4 |   |
| Rhythm and intonation   1, 2 | 5 | 5 |   |
| Harmony and analysis   1, 2 | 9 | 9 |   |
| History of music | 6 |   |   |
| Modules 'History of music' |   | 6 | 6 |
| Formal analysis 1 |   |   | 6 |
| Encyclopedia and research | 3 |   |   |
| Posture and movement | 3 |   |   |
| History of culture |   |   | 3 |
| Optional subjects |   |   | 6 |
| Total  | 60 | 60 | 60 |
Master

| Required subjects | Ma1 (CR) | Ma2 (CR) |
| --- | --- | --- |
| Main instrument IV, V (master exam)  | 27 | 30 |
| Chamber music 3, 4 | 6 | 12 |
| Orchestra 4, 5 | 6 | 6 |
| Formal analysis 2 | 6 |   |
| Introduction to philosophy | 3 |   |
| Artistic Research Practices | 3 |   |
| Optional subjects | 9 | 12 |
| Total  | 60 | 60 |
Alumnus in focus
Antoine Siguré
Percussionist Antoine Siguré is currently first timpani player in the Philharmonia Orchestra in London.
Antoine was taught by current professors percussion, Gert Francois and Bart Quartier, and was also formerly very active with the Symphonic Orchestra of Flanders as a freelancer before joining the Philharmonia Orchestra.
More information about Antione.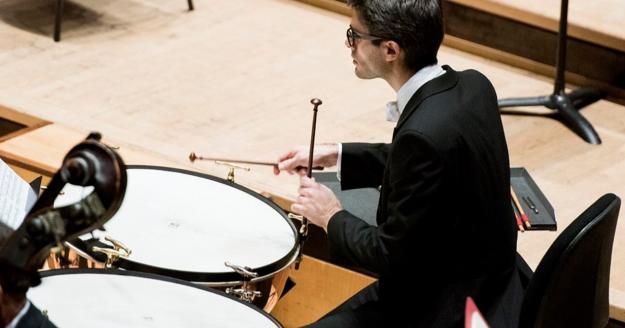 Your professors
In order to develop your talents to the fullest you need a teacher that is capable to help and motivate you in the right way. Our teaching staff is world renowned and have years and years of experience both as performers but also as pedagogues. 
Do you have any specific questions before you register for the admission tests? Would you like to meet your teacher before you take the big step? Below is a list of all teachers with contact information.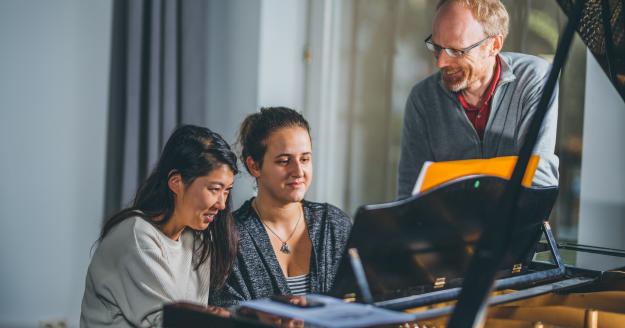 Gert François
Professor Percussion
Gert François studied at the Royal Conservatory of Ghent, where he obtained his Master's Degree in Percussion and Chamber music. He continued studying in search for perfection with Ruud Wiener (Vibes) and Adam Dramé ( African percussion). Since 1987 he is head of the percussion department at our Koninklijk Conservatorium Brussels. Regularly he is invited as a guest teacher around the world. As performer he is principal timpani and section leader at Brussels Philharmonic with whom he obtained an Oscar for best film music with "the Artist" and a Golden globe for the music of "The Aviator". As a soloist he created " Raga I" of Wim Henderickx in the version of percussion solo and 2 piano's with the piano duo Heidi Henderickx/Levente Kende. Later he recorded the orchestral version of "Raga I" with "De Filharmonie" with the conductor G. Llewellyn.
During" Big Bang" percussion concerts he had the pleasure to perform with percussion masters such as Trilok Gurtu / Doudou N'Diaye Rose / Mamady Keita / Han Bennink / Madjid Khaladj among others. In 2009 he performed "liever misschien dan alleszins" of Frans Geysen for percussion ensemble and timpani conducted by Bart Bouckaert. In 2011 he was in the world première of "Groove" the percussion concerto of Wim Henderickx with Brussels Philharmonic and G. Guerrero. A few years later he was the leading percussion soloist with the Belgian and Chinees première of the "Water Passion after St. Matthew" from Tan Dun. The same year he created Raga I for Windband and a percussion solo from Wim Henderickx with Koninklijke Muziekkapel van de Gidsen under the baton of Yves Segers.

Bart Quartier
Professor Percussion and researcher
After his percussion studies, Bart followed a marimba specialisation with Robert van sice; and for jazz he received information from Peter Hertmans and Diederik Wissels.
A 30 year experience inside and outside Belgium contains a lot of different styles: symphonic, opera, ancient music, contemporary music, pop, variété and jazz.
Bart shared the scene with Mike Mainieri, Trilok Gurtu, Robert Martin (ex-Frank Zappa) beside Belgian top players like jan Michiels, Inge Spinette, Levente Kende, Gert François, Dreamtime, Brussels Jazz Orchestra... on North Sea Jazz festival, Brosella...
Bart is teacher marimba and vibraphone (classic and jazz) at Koninklijk Conservatorium Brussel. For master classes and as a member of the jury, Bart was invited in Netherlands, Norway, Germany, Switzerland, Italy, Luxembourg, France, Spain, Portugal, South-Corea and Japan.
His compositions for vibraphone and marimba are distributed worldwide by leading publishers like: Hal Leonard, Henri Lemoine. Bart was laureate of the Sabam Contest for Composition for Jazz-themes 2000 and 2002. His own CD's: 'Thank You' (quintet), 'Profiles' (duo) and 'Life Path' (solo). As sideman Bart can be heard on more then 70 Cd's and made concert tours through Europa, U.S.A., South-Korea and Japan.
Projects in the spotlights
From Varèse through Zappa and Beyond
In the percussion concert of 2022, the percussion class - in collaboration with the Jazz and Live Electronics department - presented the connection between Edgar Varèse and Frank Zappa. They performed Varèse's Ionisation, professor Bart Quartier's Ensemble, John Cage's Third Construction and Frank Zappa's Black Page, among others.
Minimal Music
The 2021 percussion concert brought Minimal Music by Steve Reich, Philip Glass and Frans Geysen and original work with electronics by alumni Ruud Roelofsen among others alongside work by De Falla in an arrangement by current student Ángel Pérez Nieto. Music from different periods and styles, a wealth of timbres.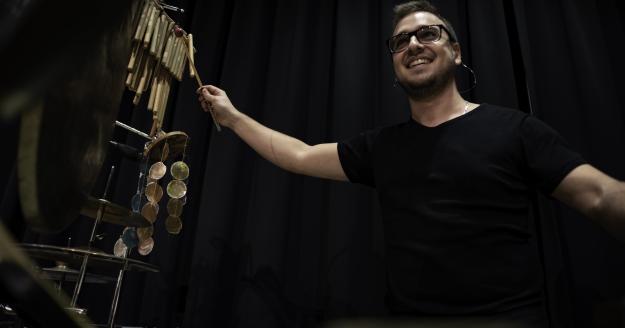 Your campus
Campus Regentschapsstraat & Kleine Zavel
Our campuses are located in the vibrant Sablon district right in the heart of Brussels. The Conservatoire's stately main building on the Regentschapsstraat with its magnificent Concert Hall is one of Brussel's landmarks. Around the corner is our campus on Kleine Zavel where you can attend classes and study in the best conditions. Moreover, you can use our premises to study during the week and at weekends.
How can I access the campuses?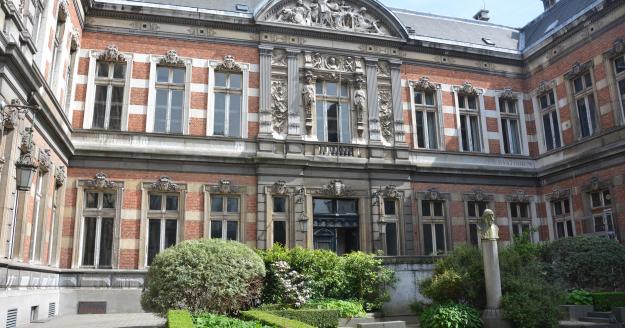 Renovation of the main building
After years of negotiations, we are proud to announce that the plans for the renovation of our impressive main building on Regentschapsstraat have been approved. More info on this can be found here.
Go abroad
During your studies at the Koninklijk Conservatorium Brussel, you will come in contact with the world: after all, you study in Brussels, Europe's most cosmopolitan capital. KCB offers guest lectures by international professionals or by a professor from a foreign partner school, international projects,... we will train you to become a professional ready for tomorrow's increasingly international world.
Do you want to spend some time abroad yourself? You can! Studying for a semester (or academic year) at a partner university or doing an internship abroad, mais oui, of course! Find out more about internationalisation.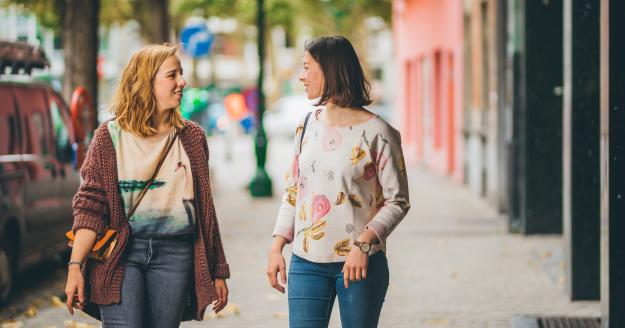 We organise several info moments during the second semester, such as (online) info days and open class moments.
Concerts
We welcome you to our many concerts, masterclasses and research days. Also come and listen to a caleidoscoop concert by our BA1 and BA2 students or our public exams. That way you can see what you would learn as a future KCB student. Every academic year, there are numerous productions in which our students perform. Info & tickets via the agenda or subscribe to our newsletter with the red button.
Enrolment & Admission Tests
To start your studies at the Koninklijk Conservatorium, you must pass an artistic admission test. For information on the entrance exams - such as dates, the programmes to prepare, the enrolment conditions/fees and the module to enrol - click on the button below.
 
Any question?
For more information, please contact the student administration via e-mail or make an appointment.