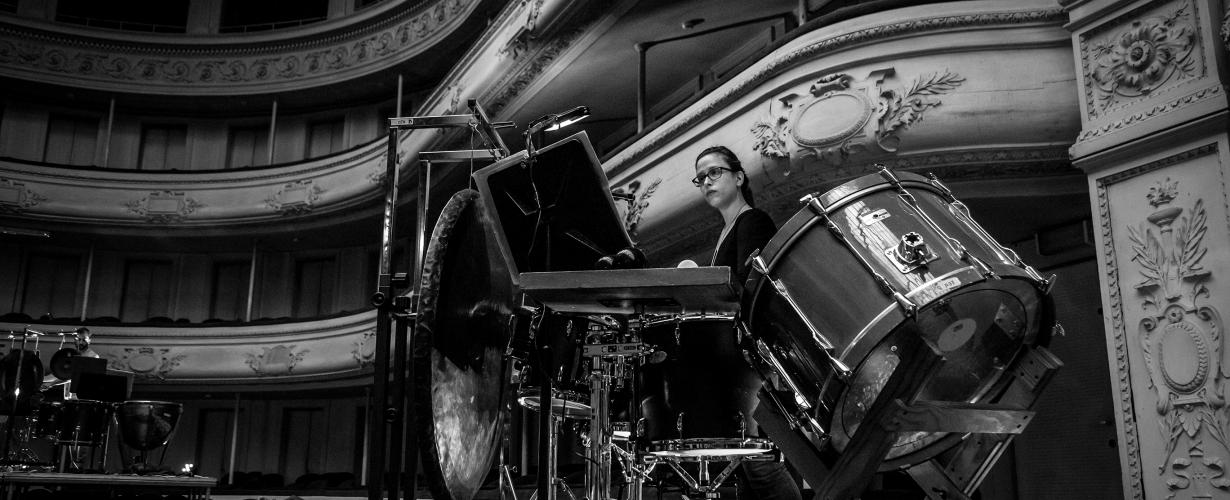 bachelor of master in de Kunsten
Percussion
Welcome to the Koninklijk Conservatorium Brussel!
With a Bachelor and Master of the Brussels Conservatoire you are set for an inspiring professional career! If you want to join an international orchestra or end up doing something entirely different with your degree, our programmes are the ideal preparation for a bright future. 
The KCB focusses on the broad artistic formation of each individual. The lessons are based on direct interaction between teacher and student due to the small amount of students in each class. The great number of orchestral productions each year allows us to gain experience on the stage and learn the ins and outs of the greatest pieces is in music history. 
 
Bachelor

| Required subjects | Ba1 (CR) | BA2 (CR) | BA3 (CR) |
| --- | --- | --- | --- |
| Main instrument I, II, III | 24 | 24 | 27 |
| Chamber music 1, 2 |   | 6 | 6 |
| Orchestra 1, 2, 3  | 6 | 6 | 6 |
| Theory and ear training  1, 2 | 4 | 4 |   |
| Rhythm and intonation   1, 2 | 5 | 5 |   |
| Harmony and analysis   1, 2 | 9 | 9 |   |
| History of music | 6 |   |   |
| Modules 'History of music' |   | 6 | 6 |
| Formal analysis 1 |   |   | 6 |
| Encyclopedia and research | 3 |   |   |
| Posture and movement | 3 |   |   |
| History of culture |   |   | 3 |
| Optional subjects |   |   | 6 |
| Total  | 60 | 60 | 60 |
Master

| Required subjects | Ma1 (CR) | Ma2 (CR) |
| --- | --- | --- |
| Main instrument IV, V (master exam)  | 27 | 30 |
| Chamber music 3, 4 | 6 | 12 |
| Orchestra 4, 5 | 6 | 6 |
| Formal analysis 2 | 6 |   |
| Introduction to philosophy | 3 |   |
| Artistic Research Practices | 3 |   |
| Optional subjects | 9 | 12 |
| Total  | 60 | 60 |
Antoine Siguré
Slagwerker Antoine Siguré is momenteel 1e Pauk-speler in het Philharmonia Orchestra in Londen. 
Antoine volgde les bij Gert Francois en Bart Quartier aan het Koninklijk Conservatorium Brussel en was vroeger ook heel actief bij het Symfonie Orkest Vlaanderen en als freelancer voor hij in het Philharmonia Orchestra terecht kwam.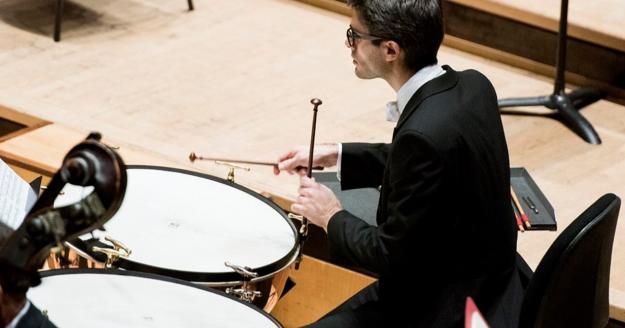 Teaching Staff
In order to develop your talents to the fullest you need a teacher that is capable to help and motivate you in the right way. Our teaching staff is world renowned and have years and years of experience both as performers but also as pedagogues. 
Do you have any specific questions before you register for the admission tests? Would you like to meet your teacher before you take the big step? Below is a list of all teachers with contact information.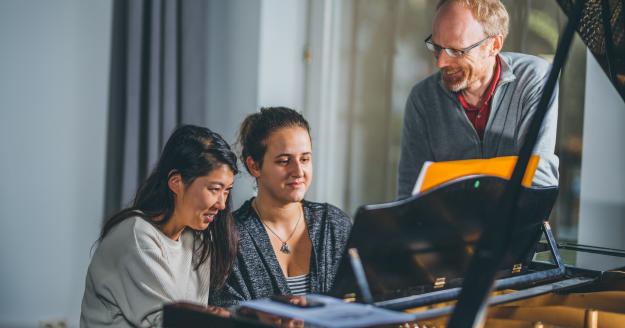 Gert François
Professor Percussion
Gert François studied at the Royal Conservatory of Ghent, where he obtained his Master's Degree in Percussion and Chamber music. He continued studying in search for perfection with Ruud Wiener (Vibes) and Adam Dramé ( African percussion). Since 1987 he is head of the percussion department at our Koninklijk Conservatorium Brussels. Regularly he is invited as a guest teacher around the world. As performer he is principal timpani and section leader at Brussels Philharmonic with whom he obtained an Oscar for best film music with "the Artist" and a Golden globe for the music of "The Aviator". As a soloist he created " Raga I" of Wim Henderickx in the version of percussion solo and 2 piano's with the piano duo Heidi Henderickx/Levente Kende. Later he recorded the orchestral version of "Raga I" with "De Filharmonie" with the conductor G. Llewellyn.
During" Big Bang" percussion concerts he had the pleasure to perform with percussion masters such as Trilok Gurtu / Doudou N'Diaye Rose / Mamady Keita / Han Bennink / Madjid Khaladj among others. In 2009 he performed "liever misschien dan alleszins" of Frans Geysen for percussion ensemble and timpani conducted by Bart Bouckaert. In 2011 he was in the world première of "Groove" the percussion concerto of Wim Henderickx with Brussels Philharmonic and G. Guerrero. A few years later he was the leading percussion soloist with the Belgian and Chinees première of the "Water Passion after St. Matthew" from Tan Dun. The same year he created Raga I for Windband and a percussion solo from Wim Henderickx with Koninklijke Muziekkapel van de Gidsen under the baton of Yves Segers.

Bart Quartier
Professor Percussion and researcher
After his percussion studies, Bart followed a marimba specialisation with Robert van sice; and for jazz he received information from Peter Hertmans and Diederik Wissels.
A 30 year experience inside and outside Belgium contains a lot of different styles: symphonic, opera, ancient music, contemporary music, pop, variété and jazz.
Bart shared the scene with Mike Mainieri, Trilok Gurtu, Robert Martin (ex-Frank Zappa) beside Belgian top players like jan Michiels, Inge Spinette, Levente Kende, Gert François, Dreamtime, Brussels Jazz Orchestra... on North Sea Jazz festival, Brosella...
Bart is teacher marimba and vibraphone (classic and jazz) at Koninklijk Conservatorium Brussel. For master classes and as a member of the jury, Bart was invited in Netherlands, Norway, Germany, Switzerland, Italy, Luxembourg, France, Spain, Portugal, South-Corea and Japan.
His compositions for vibraphone and marimba are distributed worldwide by leading publishers like: Hal Leonard, Henri Lemoine. Bart was laureate of the Sabam Contest for Composition for Jazz-themes 2000 and 2002. His own CD's: 'Thank You' (quintet), 'Profiles' (duo) and 'Life Path' (solo). As sideman Bart can be heard on more then 70 Cd's and made concert tours through Europa, U.S.A., South-Korea and Japan.
Any question?
For more information on this programme you can contact the student administration via secretariaat.kcb@ehb.be.