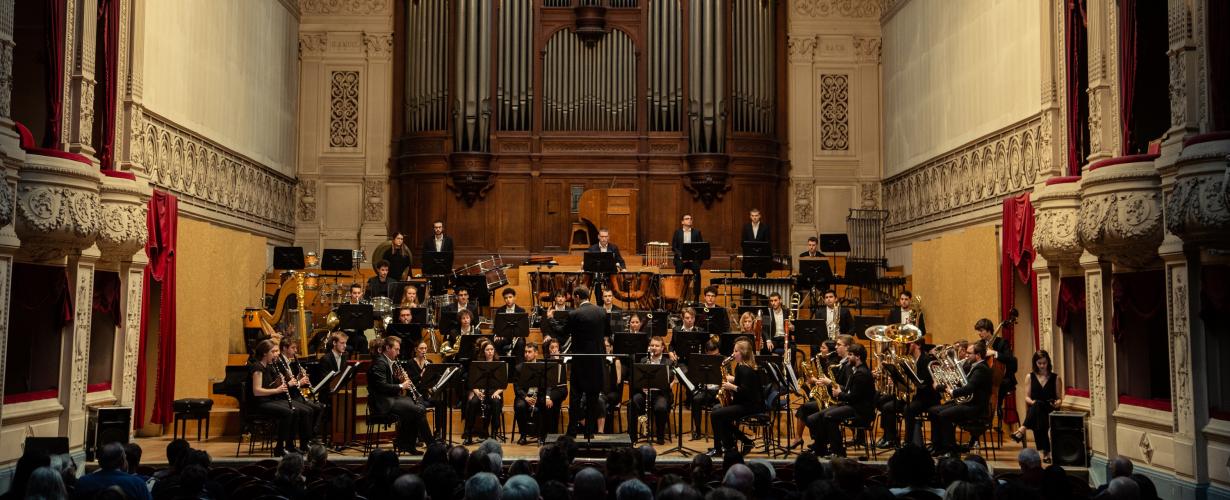 Location
Concert Hall, Regentschapsstraat 30, 1000 Brussels
Whereas last year Don Juan was still the headliner of the programme, this year the Wind Orchestra of the Koninklijk Conservatorium Brussel surprises you with a challenging programme with some of the most difficult scores. Conductor Yves Segers chooses for home-grown works by Philippe Lamouris, combined with new works from the oeuvre for wind orchestra, and even daringly includes rich archives of the symphonic orchestra, such as a new transcription of Sergej Prokofieff's L'amour des Trois Oranges. Finally, we end with a climax, where music and movement come together in Óscar Navarro's rousing, challenging and groundbreaking Libertadores.
Conductor
Yves Segers
Ensemble
KCB students Brass, Woodwind & Percussion of the music department Classical
Programme
Philippe Lamouris
Alexandre Kosmicki
Dmitry Kabalevsky
Break
 
Sergey Prokofiev (arr. T. Rutten)

L'amour des trois oranges

Óscar Navarro
Which ticket should I book (€10 / €5 / €0)?
For whom is it €0?
This event is free for children under the age of 12 years old. It is also free for employees and students of KCB, CrB, RITCS and EhB, they may bring a second person of their choice for free to introduce them to our wonderful institution. Be sure to bring the adequate proof of identity.
For whom is it €5?
We offer a discounted of €5 for seniors (+65), students from other institutions and groups of 10 or more. Be sure to bring the adequate proof of identity.
For whom is it €10?
All persons outside the categories mentioned above, will have to book a ticket at the price of €10.