Final year students of Kunsthumaniora Brussel visiting the Koninklijk Conservatorium Brussel
On Monday, the 13th of February 2023, the Koninklijk Conservatorium Brussel, School of Arts of the Erasmushogeschool Brussel, welcomed no less than 21 students from the Jazz Department and 18 students from the Classical Department of the Kunsthumaniora Brussel (KhB).
They were welcomed with open arms and given useful information about the admission tests and the workings of, who knows, their future conservatoire.
Besides, it was ex-KhB students, who are pursuing their studies at the KCB today, who provided the music during the private opening day.
Jazz ensemble during the open day
Shout out to the Jazz ensemble:
Adinda Hertmans vocals
Gilles Van den Cruyce vocals
Jelte De Cock drums
Jonas Paenen piano
Tristan Tarras double bass
With stars in their eyes
It was inspiring for the KhB students to see with their own eyes and hear with their own ears how the former co-students have evolved after joining the KCB. They enjoyed it with stars in their eyes
When the last questions were answered in a pleasant and relaxed atmosphere in the majestic concert hall, the students were given a tour of the campus that ended with a lunch.
In the afternoon came the real work as KhB students were then invited to get a taste of the theoretical and practical subjects through open class sessions. They had the opportunity to attend the following classes:
Viola (Tony Nys), Composition (Peter Swinnen), Harp (Agnes Clément), Piano (Daniel Blumenthal & Piet Kuijken),
Saxophone (Simon Diricq), Violin (Yossif Ivanov), Cello (Jeroen Reuling & Viviane Spanoghe),
Trumpet (Manu Mellaerts), Clarinet (Benjamin Dieltjens), Live Electronics (Roel Das), Jazz - Double Bass & Guitar (Christophe Walemme), Jazz - Vocals (David Lynx), Jazz - Saxophone (Bruno Vansina), Jazz - Violin (Alexandre Cavalière), AMV (Rudy Van der Cruyssen),
History of Jazz (Christian Mentens) and Movement Studies (Adam Solya).
This private open day was a pleasant and instructive experience for all parties. KCB considers it important to have close contact with secondary school students who would like to continue their music (or musical) studies at a conservatoire.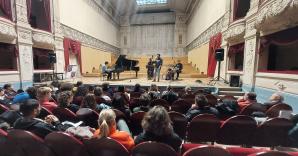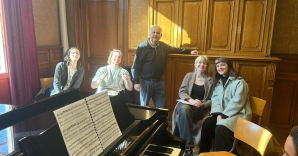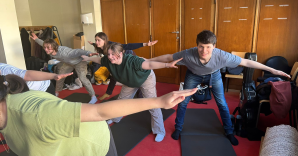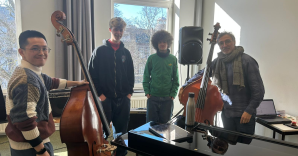 Would you also like to attend an open lesson session?
INDIVIDUAL
Please send an email to secretariaat.kcb@ehb.be indicating which lesson you would like to take with which professor.
This is possible from 20.02.2023 up to and including 17.05.2023. The list of professors can be found here.
IN GROUP
Would you also like a private open day at KCB with your secundary school or music school? Contact maud.hallot@ehb.be.
UPCOMING INFO MOMENTS
On this webpage you will find the planned info moments offered by our programmes during the academic year 2022-2023.