Jazz department KCB at Lotto Brussels Jazz Weekend
Last weekend the Lotto Brussels Jazz Weekend 2023 took place and of course KCB was prominently present. On Saturday the 27th of May, our students performed all day at the Oud Korenhuis. They showed their talent in front of an enthusiastic audience that could enjoy the sunny weather. A moment they had been looking forward to for a long time. 
Seven ensembles
No fewer than seven student ensembles performed: students of Stéphane Galland, Diederik Wissels, Dirk Schreurs, David Linx, Christophe Wallemme and Peter van Marle. Each played a 30- to 45-minute set.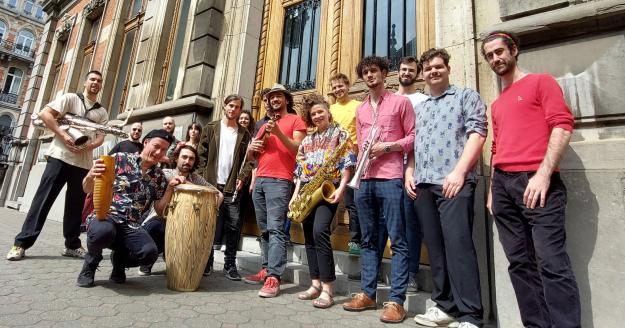 Banda Bruselas, a festive finale
The students closed the festival with the salsa music of Latin band "Banda Bruselas", led by professor Peter van Marle. Soon the audience showed their best salsa dance moves and danced until late at night. What a party!
The Lotto Brussels Jazz Weekend is a moment that students have spent weeks practising for with their teachers. Taking part in this jazz festival is the ideal preparation for a professional career as a jazz musician. It teaches them to enter the famous Brussels jazz scene.