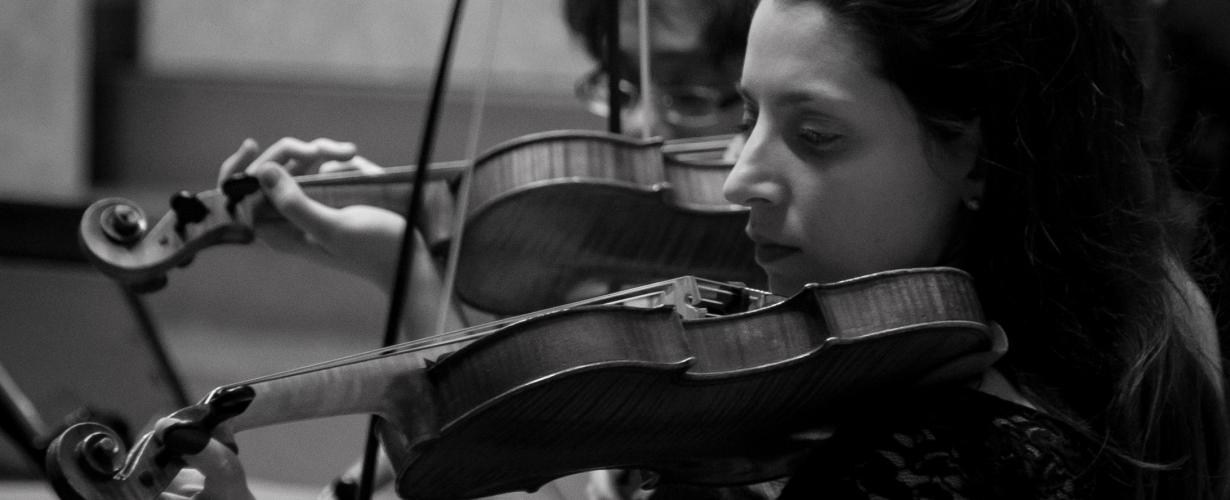 bachelor of master in de Kunsten
BAROQUE VIOLIN
Welcome to the Koninklijk Conservatorium Brussel! 
With a Bachelor and Master of the Brussels Conservatoire you are set for an inspiring professional career! If you want to join an international orchestra or end up doing something entirely different with your degree, our programmes are the ideal preparation for a bright future.
The KCB focusses on the broad artistic formation of each individual. The lessons are based on direct interaction between teacher and student due to the small amount of students in each class. The great number of orchestral productions each year allows us to gain experience on the stage and learn the ins and outs of the greatest pieces is in music history.

Bachelor

| Required Subjects | Ba1 (Credits) | BA2 (Credits) | BA3 (Credits) |
| --- | --- | --- | --- |
| Main instrument I, II, III | 18 | 18 | 24 |
| Chamber Music I, II, III | 6 | 6 | 6 |
| Repertoirestudy/sight reading 1, 2 |   | 3 | 3 |
| Theorie of hist.performance practices. 1, 2, 3 | 6 | 6 | 6 |
| Orchestra/consort. 1,2,3 | 3 | 3 | 3 |
| Philosophy and aesthetics of early music 1 |   |   | 3 |
| Theory and ear training 1,2 | 4 | 4 |   |
| Rhythm and intonation 1,2 | 5 | 5 |   |
| Harmony and analysis 1,2 | 9 | 9 |   |
| History of Music | 6 |   |   |
| Modules History of Music |   | 6 | 6 |
| Analysis of musical forms 1 |   |   | 6 |
| Posture and movement | 3 |   | 3 |
| History of culture |   |   | 3 |
| Total Credits | 60 | 60 | 60 |
Master

| Required Subjects | MA1 (Credits) | MA2 (Credits) |
| --- | --- | --- |
| Main instrument IV, V (Master exam) | 27 | 30 |
| Chamber Music 4, 5 | 9 | 12 |
| Repertoire study/Sight reading 3 | 3 |   |
| Theory of historical performance practice 4, 5 | 6 | 6 |
| Orchestra/consort 4,5 | 6 | 6 |
| Philosophy and aesthetics of early music 2 | 3 |   |
| Study of sources/edition |   | 6 |
| Artistic Research Practices | 3 | 6 |
| Optional Subjects | 3 |   |
| Total Credits | 60 | 60 |
Teaching Staff
In order to develop your talents to the fullest you need a teacher that is capable to help and motivate you in the right way. Our teaching staff is world renowned and have years and years of experience both as performers but also as pedagogues.
Do you have any specific questions before you register for the admission tests? Would you like to meet your teacher before you take the big step? Below is a list of all teachers with contact information.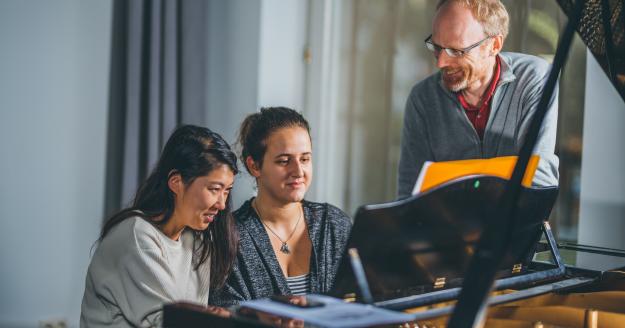 Ryo Terakado
Professor Baroque Violin
The Bolivian-born Japanese violinist and conductor, Ryo Terakado, started to play violin at the age of 4. He won the 2nd prize in the All Japan Youth Musical Competition when he was 14 years old. He studied violin, chamber music and conducting at the Toho Gakuen School of Music. In 1983, he won the 3rd prize in the All Japan Music Competition. At the time when graduating at the Toho Gakuen, he was invited as a concertmaster of The Tokyo Philharmonic Orchestra, where he served for 2 years.
Ryo Terakado's interest in Baroque music already started before: When he was 19, he started to play Baroque violin by himself. Some years later, he founded a Baroque ensemble Concert Spirituel together with Masahiro Arita (flute) and Hidemi Suzuki (cello). In 1985, he came to the Netherlands to study the Baroque violin at the Royal Conservatoire in The Hague under guidance of Sigiswald Kuijken.
Since 1987, Ryo Terakado played with many Baroque orchestras in Europe and Japan as a concertmaster: Les Arts Florissants, La Chapelle Royale, Collegium Vocale Gent, Tokyo Bach Mozart Orchestra etc. Presently he is the concertmaster of La Petite Bande and Bach Collegium Japan. He plays regularly concertos by i.e. J.S. Bach, Antonio Vivaldi, W.A. Mozart with the above-mentioned orchestras.

Joanna Huszcza
Teacher Baroque Violin
Violinist Joanna Huszcza is a passionate chamber musician, orchestra leader and soloist. Performing regularly at some of the most recognised venues and festivals. A native of Warsaw and currently living in Brussels, she completed her Master's Degree at the Koninklijk Conservatorium in Den Haag in the Netherlands under the guidance of Enrico Gatti. Throughout her studies and professional career she has collaborated with some of the most inspiring personalities and pioneers in the world of Early Music and historically informed performance like Philippe Herreweghe, Ton Koopman, Marcel Ponseele, Marco Beasley, Enrico Gatti, Philippe Pierlot and Skip Sempe. She also toured extensively with groups as; Collegium Vocale Gent, Ricercar Consort, De Nederlandse Bachevereniging and Ensemble Aurora, among others. 

Those experiences have encouraged her to search for her own answers and have led her to find a musical context of her own. She has developed a particular interest in the vocal aspect of violin playing as one of the most important means to communicate with her audience. She equally enjoys performing on other instruments of the violin family such as; viola, violino piccolo as well as viola d'amore. Soon after her graduation, Joanna was invited to establish a violin class at the Early Music Department at the Music Academy in Łódź, Poland. She was later appointed the assistant to the violin class of Mira Glodeanu at the Conservatoire Royal de Bruxelles where she has been teaching regularly since 2015. Simultaneously coaching at numerous masterclasses in Europe, Asia and South America. She has been invited regularly to lead orchestras such as Il Gardellino, Les Agremens, Les Muffatti, Toujours Mozart Festival Orchestra, Cappella Cracoviensis, Köllner Academie, Luthers Bach Ensemble and Geneva Camerata. 

However dedicated to historically informed performance, Joanna often gets inspiration from a fruitful exchange of ideas sharing the stage with her colleagues from different fields such as jazz, contemporary, popular and world music and contemporary dance. Apart from live performances, she can be heard on labels as Alpha, Glossa, Naïve, Arcana, Ramée, Et'Cetera, Passacaille, Sony and Deutche Grammophon. 
Her violin was made by Hendrick Jacobs in Amsterdam in 1689 and was faithfully restored to original playing condition by Philippe Poissonniez.
 
To start your study at the Koninklijk Conservatorium Brussel you will have to pass an artistic admission test. Most specializations have two sessions: one before the summer break and one in September. As candidate-student you can register for one of these sessions.
For information regarding the admission tests like dates, the programme you need to prepare and the admission requirements and costs you can click on the picture below: