Musical 'Sweet Charity' great success
The Schools of Arts did it again!
The Koninklijk Conservatorium Brussel and the RITCS, Schools of Arts of the Erasmushogeschool Brussel, joined hands to organise the musical 'Sweet Charity'.
On Wednesday the 12th of May 2021, the Musical students were ready to shine and shimmer in this musical adventure. The Stage Techniques students were present for the lighting design, the audio and the scenography. The students of the Professional Bachelor of Audiovisual Arts took care of the livestream, allowing almost 200 Zoom accounts to watch the live performance from a safe distance and at the same time up close!
Due to legal aspects, we could unfortunately not open our digital doors to the wider audience for this production, but no worries, the collaboration between RITCS and KCB is increasing. Over the years, Musical students and RITCSers have realised the following productions together:
Company
Jekyll & Hyde (March 2018)
She Loves Me (January 2021)
Sweet Charity (May 2021)
Thanks to the crossovers between the different disciplines of the Schools of Arts, we give our students the opportunity to create wonderful productions together.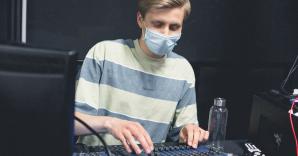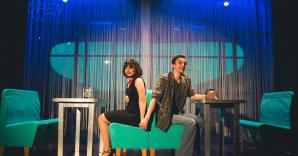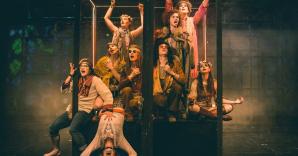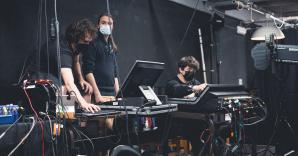 Sweet Charity's story
The musical tells the story of nightclub dancer Charity Hope Valentine.
All her life, she has been searching for true love, yearning for someone to love her and hoping for a better life.
After being cheated on for the umpteenth time, one evening she happens to bump into the world-famous Italian film star Vittorio Vidal.
A true love affair does not ensue and the 'relationship' is very short-lived.
Fortunately, she does receive an autographed photo and a hat as a souvenir.
Charity can't believe her luck.
Then she meets Oscar Lindquist in a stuck elevator.
The spark between the seemingly dull accountant Oscar and the frivolous Charity jumps over.
Wedding plans are made and a long-cherished dream seems to be fulfilled. Has she found true love after all?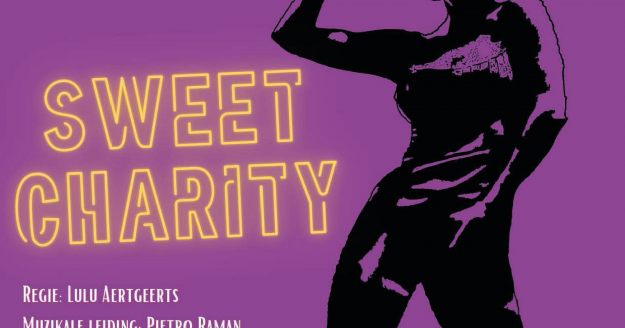 As of the academic year 2022-2023, the Koninklijk Conservatorium Brussel will be offering, in addition to the bachelor's degree in Musical Arts, an academic Master's degree of 60 credits. With this master course we want to give students the opportunity to graduate as autonomous, exploring artists who can set up their own projects and offer a response to the current practice of the musical arts.
Find out more here.