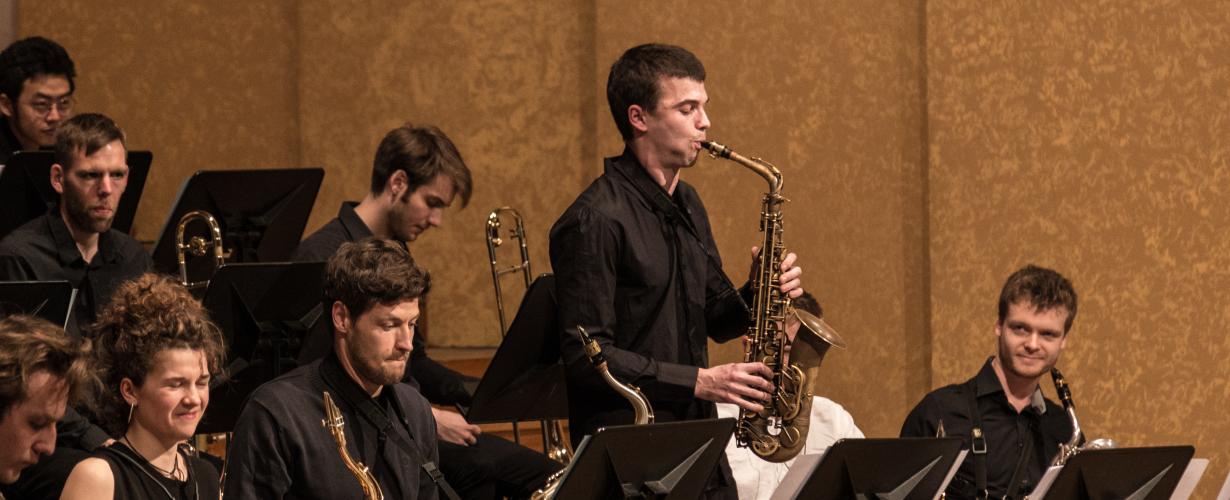 Location
Different locations per concert | see below
Reservation
No reservation required
The Big Band of the Koninklijk Conservatorium Brussel joins forces with the big band of the KASK & Conservatorium (HOGENT - Howest) to perform two concerts this season. They will play a repertoire with arrangements by Peter Herbolzheimer on the one hand and works from Latin American music on the other. KCB is one of the few conservatoires in Belgium to have a Latin ensemble in its curriculum.
Courtesy of the Alliantiefonds.
Artistic direction
Lode Mertens, Peter Van Marle & Marc Godfroid
Ensemble
Students of KCB and the Conservatoire of Ghent from the Music Department - Jazz.
Mainly Saxophone, Trumpet & Trombone.
Programme
Arrangements by Peter Herbolzheimer & Latin American music.
These concerts will take place at different locations
23.03.2023 | 20:00
Exhibition Hall
Koninklijk Conservatorium Brussel
Regentschapsstraat 30
1000 Brussels
24.03.2023 | 20:00
VIERNULVIER Café Gent 
Kunstencentrum VIERNULVIER vzw
Sint-Pietersnieuwstraat 23
9000 Ghent