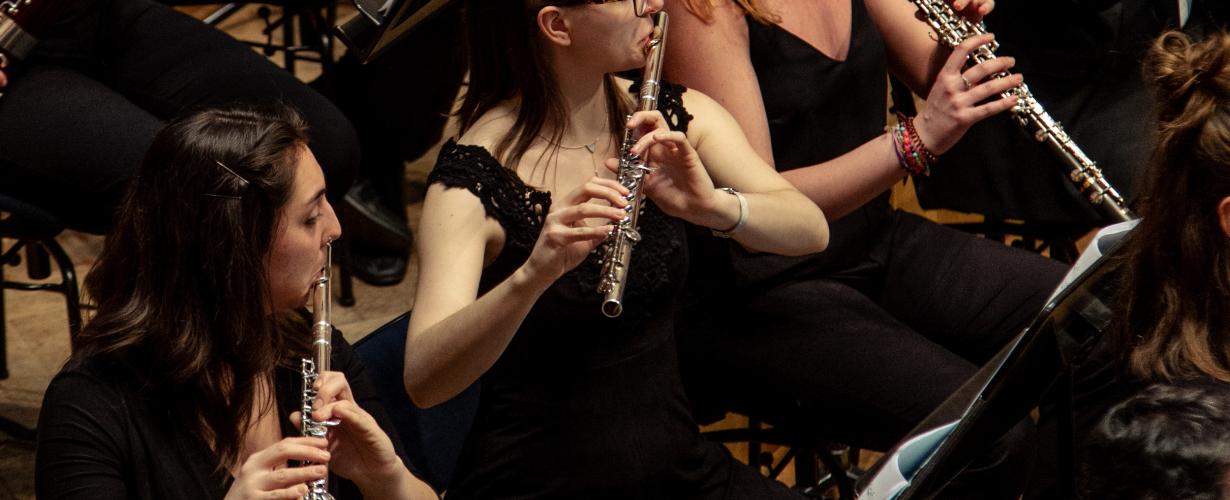 Location
Small Concert Hall, Kleine Zavel 5 Brussels
Reservation
Will be communicated soon
(Ma)(s)sacrilegion d'horreur
This year, the annual flute ensemble concert is presented as the conclusion of a 2 days piccolo Masterclass with Gudrun Hinze. This authority figure on the smallest instrument of the flute family is the piccolo player of the famous Gewandhausorchester Leipzig. She also makes highly appreciated arrangements for her ensemble Quintessenz, as well as for larger flute ensemble.
A selection of these arrangements will be performed at the concert. In addition, the piccolo will be put in the picture as a solo instrument and the concert will be concluded with (Ma)(s) sacrilegion d'horreur for 8 piccolos and 4 tambours de Bâle by Heinz Holliger.
Conducted by
Bart Bouckaert
Artistic direction and coordination
Carlos Bruneel
Students of Koninklijk Conservatorium Brussel
Programme
Heinz Holliger, (Ma)(s)sacrilegion d'horreur
And other works
Reduced prices
This evening is free of charge for children under the age of 12 or persons in possession of a KCB Concert membership card. Likewise for employees and students of the Koninklijk Conservatorium Brussel, Conservatoire royal de Bruxelles, RITCS and EhB. We offer a reduced rate for seniors and groups of 10 people or more. Be sure to have your adequate ID with you.