The year 2023 started musically at our Koninklijk Conservatorium Brussel with a unique New Year's concert. For this unforgettable evening, our Artistic Board chose a varied programme in which our most talented students and alumni could perform. The concert was followed by a New Year reception where colleagues saw each other again after the winter break and wished each other all the best for 2023. Finally, this wonderful evening ended beautifully with snowflakes swirling past our historic Brussels conservatoire.
Erasmushogeschool Brussel
Dennis Cluydts, general director of Erasmushogeschool Brussel, kicked off the new year with an enthusiastic speech marked by the innovative goals that EhB aspires to achieve in 2023.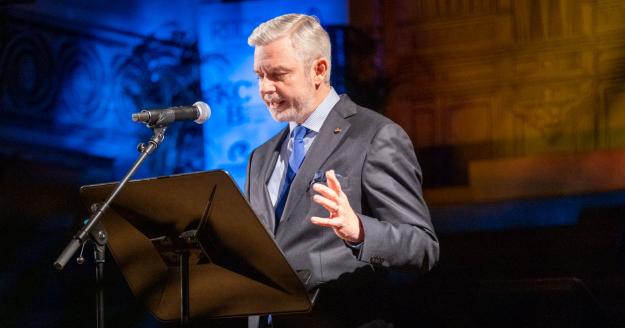 Programme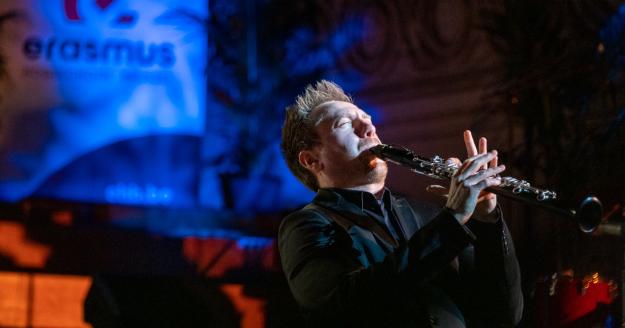 Classical
Aes Duo
Clarinetist Emanuele Mammarella & pianist Marco Mantovani, also known as the Aes Duo, performed Aaron Copland's Clarinet Concerto: a two-movement concerto with the most lyrical and melodic creations first, followed by a jazzy style with a glissando or jazz "smear" at the end.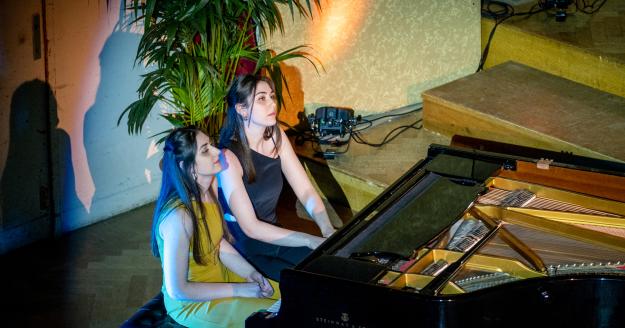 Fiona & Chiara Alaimo
As the second classical duo, pianists Fiona en Chiara Alaimo performed Francis Poulenc's Sonata for four-handed piano and Franz Liszt's Hungarian Rhapsody No 2 in C-sharp minor. These twin sisters were jointly trained at KCB by piano teacher Aleksandar Madzar, making them incredibly well matched. The ideal duo for the four-handed piano.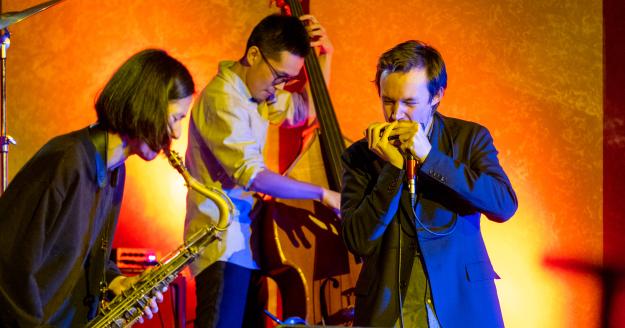 Jazzcombo
Our Jazz department performed two works by George Gershwin as the perfect transition between the more classical part of this concert and the musical part that was to follow. The jazz ensemble consisted of: Yu-Ting Li on piano, Scott Cizhou Wong on double bass, Rob Swennen on drums, Ee Hyung Jin on saxophone and Olivier Vander Bauwede with his chromatic harmonica.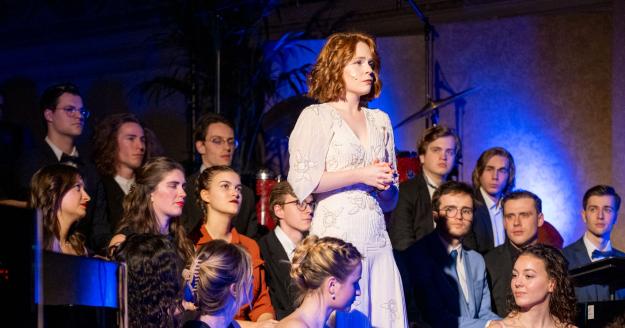 Musical
As a smashing finale, our entire musical department performed several excerpts from musicals by absolute musical greats, including Joe, Hamilton and Sunday in the Park with George, among others.
Many thanks to the Music and Musical students/alumni of KCB, presenter Julie Daems and the staff of KCB, RITCS School of Arts and EhB who worked behind the scenes, to make this wonderful evening possible. This edition of the New Year's Concert was for current KCB-EhB staff only. Next year, we are aiming for two concerts where we would love to be able to invite all our beloved audience.